Clubs Goin' Up at West: H2O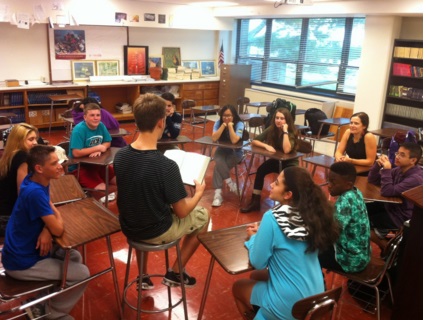 By Denise Alasu
October 29, 2015
Editor's Note: This is the fourth in a series of 10 features about clubs at West.
It is the first week of school and junior Nick Ieremciuc is checking his school email. He opens up one titled 'H2O!!" sent by the club's sponsor, math teacher, Sarah Wagner. Before he even opens it up, Ieremcic starts to smile because he already knew what it was going to be about. Ieremciuc has been a loyal member of H2O, which is short for Humbled to One, since his freshman year.
Like many people at Niles West, when Ieremciuc first learned about the club, he thought, "H2O? What? Water?" Not longs after,  Ieremcuic discovered that H2O is actually a club dedicated to Christ and where His followers and believers within Niles West can meet up for prayer, Bible study, worship, fellowship, and other activities.
If you were to walk in on a meeting, you would see one of these three things: everyone standing, singing worship songs together led by a guitar player, everyone sitting in a circle, studying the Bible and discussing questions brought up, or everyone participating in a game while enjoying some snacks.
"This year is going to be an amazing time of learning how 'wide, long, deep, and high is the love of God' for each one of us," Wagner said.
H2O accepts everyone; even those with a different background, a different faith, or who simply do not have a religion they believe in or follow. Students do not necessarily have to have the Christian faith to come to the club. So far, there have been several gatherings, and each time is successful. New subjects are spoken about, different Bible subjects are read every Monday in room 1175 from 3:30 to 4:30, and each time, members go home feeling spiritually refreshed.
"H2O is a great and friendly environment that makes everyone feel welcome. It's a fun experience sharing life with your fellow classmates and being able to join up at a tough place like school where everyone seems to be opposing each other, but in reality, everyone is just trying to find their identity, which we can find in Christ. It's difficult to grow as a community in a school with students of many different beliefs, and that is why we are able to reflect Christ's love" senior Tabitha Alasu said.
Ieremciuc also mentions that along with the regular activities that are typically planned for after school, they are also planning to reach out in the future. He said that they would like to begin volunteering at soup kitchens, have get-togethers with other groups from local school, and other other field trips.
"I think H2O is a great place for anyone to come and learn love, truth, and Jesus. It's a friendly environment and a fun club to be a part of. We are working on trying to go out to do volunteer work and other kind acts for others. I'm really excited to see how each person in the club grows and reaches out to others" Ieremciuc said.
H20 meets Mondays after school in room 1175.