77 Students Inducted into NHS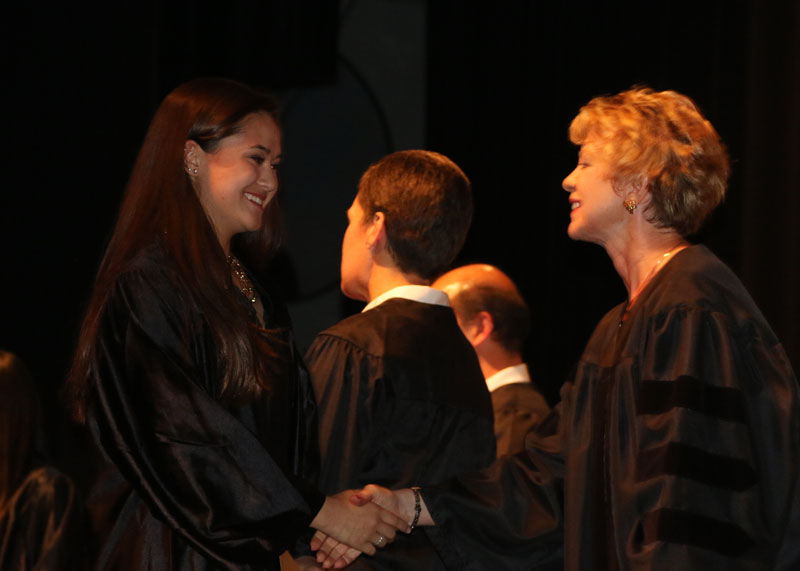 By Erin Kaihara
November 5, 2015
Seventy-seven Niles West students were inducted into the National Honors Society Wednesday, Nov. 4, at 6:30 p.m., as family and friends gathered to honor and recognize students who have not only worked hard throughout their four years in high school, but have shown great character by volunteering both at Niles West and in their own communities.
According to sponsor Daniel Gin, NHS is a prestigious national organization where only 12 percent of the senior class is actually inducted. These students are leaders of the school and underclassmen should strive to be like them.
"By nature, these students are already leaders and I hope they aim high to have good character and  continue to give back to the community and Niles West. Underclassmen should see these outstanding characters and want to emulate who they are, not just in the classroom but outside of school as well," Gin said.
In order to be inducted, the student must have a GPA of 3.8 or higher, do community service, be involved in at least two activities, and must uphold the four pillars of National Honors Society: leadership, scholar, service, and character.
Keynote speakers included Superintendent Dr. Anne Roloff, Principal Dr. Jason Ness, National Honor Society President senior Olivia Hofeld, and science teacher Julie Ann Villa who was named inspirational teacher of the year.
Dr. Roloff gave a speech about the four pillars but emphasized the importance of character, Dr. Ness emphasized the importance of leadership, Hofeld spoke about how proud she is of everyone and all of their hard work, and Villa delivered an emotional speech about her personal struggle with cancer.
Earlier this year, Villa was diagnosed with cancer and made the decision to continue teaching despite going through chemotherapy. She told the story of a former student who didn't do well in her chemistry class, but ended up becoming a nurse. She ended her speech by giving some advice about the unknown and uncertainty.
"I want you all to remember that every great person is not perfect. You must be comfortable with being uncomfortable," Villa said.
Many people said they enjoyed Villa's heartfelt speech.
"My favorite part was Ms. Villa's speech. Telling us her life struggles could not have been easy but it was so inspirational. She definitely deserved the standing ovation that she received," senior Justyna Magiera said.
What each speech did in its own way was commemorate all of the hard work these students did to get where they are now.
Some students said they didn't join because it would look good on college applications, they did it because they love to help others and because they felt like they are part of something bigger than themselves.
"I don't do things to put them on my resume to say I did something, that's not my motive. I do things because I believe in organizations and giving back to a school and community that's given me a lot," Hofeld said.
The inductees this year were seniors Cristina Allen, Amanda Lay, Barry Ruderman, Natalia Bafia, Bao-Tran Le, Ashley Chervin Sauler, Zamaan Bagban, Cindy Lee, Elisabeth Schapmann, Mercedes Bajric, Jae Won Lee, Antonia Schmidt, Asma Bhakrani, Junkyu Lee, Amanda Shabo, Rishi Bhingradia, Ameera Lodhi, Roshni Shah, Lucas Brace, Justyna Magiera, Kate Silber, Nicole Camburn, Mrugami Mahadik, Rachel Sison, Rebecca Chan, Annie Mannancheril, Cindy Son, Jacqueline Chis, Jay Modi, Jamie Suh, Anna Chlopecki, Lesha Modi, Sebastian Sulewski, Jason Chung, Suha Mohiuddin, Irein Thomas, Valerie Chuy, Isaac Moldofsky, Hannah Tinder, Kaylie Dyer, Negin Motlagh Arani, Brendan Tiongson, Anam Furrukh, Carolin Moy, Elizabeth Tsirikolias, Gibbin George, Harrison Moy, Dhanya Varkey, Vinit Gheewala, Dajana Mrkajic, Ligia Veliciu, Lily Griffin, Josephine O'Shaughnessy, Simon Villegas Mejia, Bryce Hamamoto, Samuel Pabilic, Nicolle Viloria, Olivia Hofeld, Samantha Abbie Padillo, Laura Volpe, Elissa Hoffman, Natalie Palmer, Daniel Weiss, Jensy Joseph, Kathleen Park, JinHong Yang, Danielle Karp, Migi Park, Kristen Younan, Elijah Kent, Aisha Patel, Laura Younan, Alan Kotlyar, Kristin Recinto, Jwan Yousif, Aimen Lateef, and Daniel Robinson.