Loyd Chooses Notre Dame
By Nick Goldwyn
April 20, 2011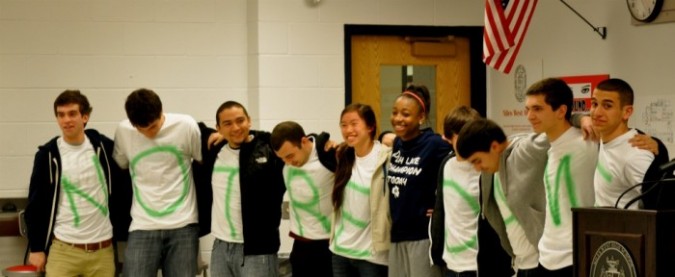 Announcing her college decision by having her closest friends spell NOTRE DAME across their white t-shirts, junior Jewell Loyd verbally committed to the University of Notre Dame at a press conference Tuesday.
Loyd, varsity basketball coach Tony Konsewicz, and athletic director David Rosengard all spoke at the press conference held Tuesday in the student commons. Rosengard began the press conference by saying that Loyd was not only a great athlete (with an infectious smile) but an amazing person, and eventually joking about how he petitioned for a redshirt so Jewell could stay in school one more year.
Konsewicz echoed what Rosengard had said, but added that Loyd's smile was amazing, because it distracted opponents from her "rip-your-heart-out" intensity on the court, and that she was the MDP (most dominate player in the state). He went on to list her stats, most notably: 28.8 points per game, over 15 rebounds 3 blocks, and 4.5 steals a game, and 28 double doubles over the course of the  season–and compare her to a ferari, because just like the Italian sports car, Jewell is "sleek, classy, and highly sought after."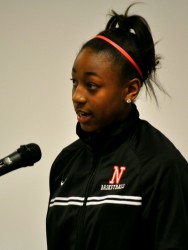 Loyd's highly sought after talents, made it  difficult for her to make a decision on a school, but that she had narrowed it down to her top four (UConn, Tennessee, DePaul, and Notre Dame), and eventually chose the Fighting Irish.
When speaking about her reasoning behind picking Notre Dame, she cited, the feel of the university, the campus culture, the (basketball team's) style of play, and of course the acedemics.
Loyd said, I'm a basketball player, but I have a brain," when talking about the university's academics, and added, "I dont know what I want to major in, but I'm 17; I still dont know alot of things."
Photos by Carolina Bedoya