Q&A with Dr. Isoye, the New District 219 Superintendent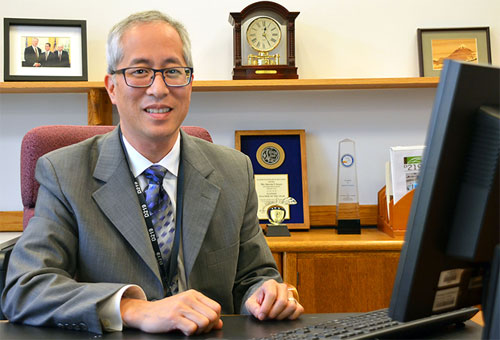 Recently, Niles West News got the chance to sit down with the new District 219 superintendent, Dr. Steven Isoye. Dr. Isoye, who became superintendent at the end of last school year, making him responsible for Niles West, Niles North, and Niles Central, spoke about his previous experience in education, his hopes and plans for the school district, and his interpretation of D219's goals and values.
NWN: What changes, if any, do you plan to implement within District 219? Where do you see the most need for improvement?
Dr. Isoye: One of the most important things for anyone new to a district, especially to someone who is coming in with a leadership role, is to get an idea of where the schools and district are at. So right now, I'm working with the communications director and focusing on students, and working with the student activities directors of each school to try and get a group of students to talk with to determine what you guys think our strength are, and in terms of the schools, where there might be some weaknesses and some opportunities in the view of the students, as well as areas that seem to be barriers. I need to get a sense from students, faculty, staff, parents, and administrators where we are in our strategic plan. The strategic plan is board-approved, so one of my duties is to make sure we use it as a guiding post for us in the future. But, I feel like I need to learn more in-depth about the district before making any changes. So, at the moment, I would say I don't know enough yet to determine those changes.
NWN: How do you feel about the current state of our school district?
Dr. Isoye: Prior to coming here, of course, this school district had an excellent reputation and continues to have that excellent reputation. It is known for its diversity among the student population and its tremendous offerings for students in terms of classes, athletics, and activities. And it has always been known this way. So, I think that students who are coming to school here are very fortunate to be here, and hopefully they are taking every opportunity they can, because the opportunities are there. Hopefully, they're not leaving with any regrets in terms of having tried a course, an activity, or anything. I think these really are amazing schools.
NWN: What are some strengths and weaknesses you see within the school district?
Strengths are similar to what I said above. Another strength, though, is the culture of the school. The most important time I get to know the tone of the school is when I walk through the hallways. During the passing periods, in a more unstructured setting, you get a feel for how the culture of the school has built upon itself. I'm very impressed by our students here in terms of how I've seen them in the hallways; the students here seem respectful of each other, like they're having a lot of fun, and, as a general rule, are happy to be here. Students in classrooms seem engaged, attentive, and like they're actively participating. It's that interaction which tells me how the students are feeling and how the teachers have created this environment because a school is all about the people in it. That was really impressive to me as a strength. I'm still working to learn about the weaknesses of the district and Niles West. I hope I might be able to hear from the students about what their ideas of our weaknesses are.
NWN: How do you feel uniquely qualified to tackle any challenges our district had/has/may have?
This is my 31st year in education, not all as an administrator. I've been in a variety of schools and a variety of positions along the way. The key to me bringing my talents to this district is that each of those teaching experiences helped build on my interactions with my colleagues, my students. There's this constant building of my understanding of schools and how they operate. I was a principal over at Maine East High School, which also has a very diverse population, and I believe that experience will transfer well in terms of the diversity here. It's not the same school, but in terms of the level of understanding of the diverse nature of students and cultures, I've had the experience there. I was most recently at Oak Park River Forest High School in a superintendent position. What I bring from there is exactly what this school is about; similar to East and definitely to here, it's an understanding about challenging curriculum and ways to engage students. My experience in working with a board as a superintendent, as well, will allow me to understand where, in general for boards, their concerns are and to find a process to help them.
NWN: Have you already identified any concerns that our board may have?
Now, the most important thing for me is to get to know the individuals on the board, so I can identify what it is they may need. If I understand the pieces, then I can better understand the whole, and I can better help them to make good decisions. Our board was without a permanent superintendent for the whole year (2015-2016 school year), so for some members whose first year was last year, this is a whole new experience. It isn't necessarily a concern, it's just something new for them. It just so happens it's also new for me because I'm new here with this board.
NWN: What's your favorite aspect of district 219?
A major draw for me to this district, and I hear this from a lot of students who come here and adults who work here, is really the student population and the diversity within it. It really reflects the world and how there are many cultures and many languages here. There are not a lot of places like this, and it works. I see all of the students and adults, and how you interact with each other, and it makes me think our world could probably learn a lot from our students here. Our world is going to become your world, as you are the emerging leaders, and I think the potential for some incredible emerging leaders to come from here is very high in the future. It's because of these unique experiences. I believe that being here will open up our students' eyes so when they go to other places, they will remember this place because you will see it is not necessarily how the rest of the world will work. That to me, is a favorite aspect and I'm thrilled to be here and be a part of it.
NWN: How is our school district different from others, and what influence does this have on our schools?
There are a few things that make us stand out. Number one, of course, is our students. That's really what I believe. Number two, we have a community that values education, and we can see that because of the resources and support that are available and given to students. I know that, through that support, we're able to have that amazing quality of education, those amazing offerings for students. Not every community is like that. We also have a diverse community, not only based upon race, but in terms of socio-economic status and a variety of other factors. There is this tremendous support for our schools and for our students; the community wants our students to do well and have a successful future.
NWN: What's your family like?
I'm married, but I have no children. I've always considered that I have students who are like my children, for whom I am responsible. I take that responsibility very seriously.
NWN: What is your educational background?
I got my Bachelor's in Science, majoring in Biology and minoring in Chemistry, from Northern Illinois University. I have a Master of Arts (MA) in Curriculum and Instruction from Concordia University in River Forest. Then, all linked together, I got my Master of Science and Education (MSED), my EDS, which is a specialist degree for my superintendent endorsement, and my Doctor of Education degree in Educational Leadership (EDD). I did these last three at Northern, as well. So, I was in school for a long time.
NWN: Where have you worked and taught?
I started teaching at Loyola Academy as a science teacher, and then went to the Latin School in Chicago and also taught science. Then, I went to Warren township in Gurnee and Deerfield Township High School, where I did science, as well. Then, I went to Highland Park High School, where I became a Science Department Chair. After that, I went back to Warren, where I served as the division head for Science, Industrial Technology, and Consumer Science. So, this goes back to building on my experience as part of a core, then a core with an elective back at Warren, which is a different way of thinking. While at Warren, I became the principal of their nine-ten building, since they have a split campus. Then, I was at Maine East, a nine through twelve building, as the principal. Most recently, I was superintendent at Oak Park River Forest. And now, I'm at Niles Township as the superintendent. So, it's a little bit of everything and a lot of wonderful opportunities. Now, I haven't had the kindergarten to eighth grade example, but I really hit every level of high school. I taught a variety of course level experiences, too, in the classroom. I've taught science classes, remedial through Advanced Placement, and at every grade level (nine-twelve).
NWN: Why did you go into education?
I enjoyed school as a kid, and still, I like learning. When I was studying science, I did a bit of the research area, and I loved the process, reading about it and thinking about it. But I'm a bit more of a people person, and I really enjoyed engaging with people. So I thought, what better way to do that than teach? I could teach about something I enjoyed, something that interested me, while engaging with students.  I just felt I would be better in tune with being around students. It was in the 1980s, when education was an unpopular field to go into, and schools were closing due to low enrollment. 'A Nation at Risk' had just come out. But I thought, "This is what I want to do and this is what I believe in". It was the best decision I ever made, and I stuck with it, and now I love it.
NWN: Do you have any ways in mind to stress our district's message of equity?
There are some ways you have to stress it. Illinois State Senate Bill 100, which talks about student discipline, is something that school districts around this state are looking at in terms of how they handle student behavior. Most recently, the board adopted a new student behavior policy. That policy is looking at disparities in how discipline is often delivered to students based upon race. That's something that I know has been on the radar here, but it's always an ongoing conversation. And that legislation has pushed the bar to go even farther and see how we work with the students. When you start looking at equity in terms of courses, there's no legislation on that. So that really comes from the inside of the schools, and their understanding. People begin to understand what their own thinking is, and the impact that comes to have on the courses and students here. Both student behavior and the courses are important pieces of it. That's what equity is about: to remove any of the predictability that may be there right now, that shouldn't be there.
Quotes have been edited for length and clarity.
About the Writer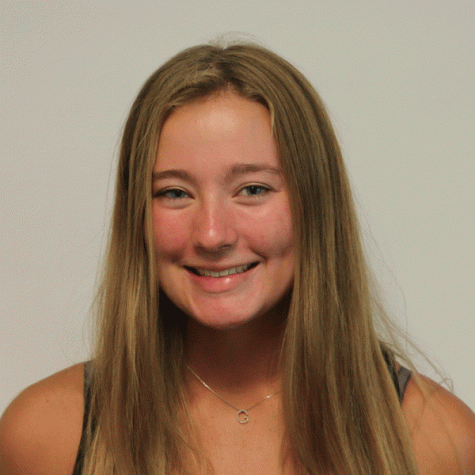 Grace Geraghty, Editor in Chief
Grace is a senior in her third year on Niles West News, where she is the Editorial Editor in Chief. Outside of NWN, she can be found figure skating, at...