Matt Galanopoulos: The Pursuit of Greatness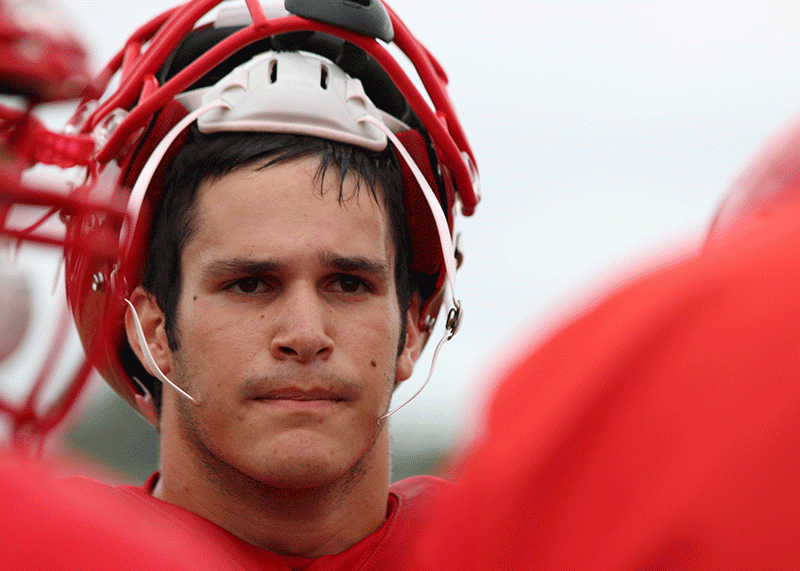 By Jackie Bajric
September 22, 2016
Senior Matt Galanopoulos catches the kickoff and starts the game with the ball in his hands. The fans in the bleachers are on their toes, eager to see what Galanopoulos can make of the first play of the game.
It's hard for a season to start off better than Galanopoulos's did this year. During the home opener against Buffalo Grove, Galanopoulos tore down the field for a 99-yard touchdown at Basrak Stadium.
"Not even exaggerating, Matt is one of the most exciting and explosive players I've played with," said senior fullback and receiver Greg Leftakes. "Every time he gets the ball there's always a chance he makes a play. That's a very valuable skill to have because he makes huge plays out of nothing!"
Leftakes, who is also his cousin, knows that Galanopoulos has a deep understanding of the sport.
"He has a great football IQ," Leftakes said. "He's like a coach on the field when he plays. He always knows where to run and how to fool the defense. Sometimes before the play he'll tell me where to run if he thinks I'll have a better chance there."
Head coach Scott Baum agrees.
"Matt is one of the most talented players I have coached in 27 years of coaching high school football. You always knows when he is on the field. The position he plays offense or defense, he always has a chance to make big plays. As a person I enjoy coaching Matt; I think I've known Matt since the third or fourth grade through his dad and the rest of his family," Baum said.
Getting to grow with and develop a player from a young age is something special for a coach.
"It's always a good thing to work with kids and see them mature, and become young men. Matt's contributions on the field are significant, obviously, but the great young man I've seen him become is truly something great," Baum said.
Galanopoulos has received offers from three schools including, most recently, Olivet Nazarene.
"I didn't expect I would get this offer, but when I did it felt pretty good," he said.
Galanopoulos's football career began in kindergarten when he started playing football for the Junior Vikings flag football team and watching his older brother Tommy Galanopoulos dominate the sport.
"It's the best team sport out there," Galanopoulos said, "There is all-around character, and there's no other sport as tough as it."
Galanopoulos's talent is joined on the field by his two cousins, senior quarterback Johnny Pabst and Leftakes.
"It's a lot of fun to throw to Matt or Greg especially since we have been playing football together for such a long time. We'd play catch in the front yard and that's why our chemistry is so good because it's something we've been doing for most of our lives," Pabst said.
Aside from all the seriousness, the boys know when it's time to joke around.
"Even in the middle of the games, we find time to poke fun at each other, but also help each other," Leftakes said. "And being so close, he knows how to pick me up and help me if I'm struggling. But at the end of the day, we have a lot of fun together and we're both each other's biggest fans."
The three cousins' work on the field doesn't fail to receive an invite to every family holiday dinner.
"It's really cool to compete with people so close to you, but it's also a lot of fun, and brings some good stories to the dinner table at Thanksgiving and Christmas," Pabst said.
Even though Galanopoulos has his cousins on the field beside him, he considers his whole team family. From practice every day to weekend games, it's hard for the boys to find time for team bonding. So every Thursday night, the night before game day, a big team dinner is hosted by the boys' families.
"The team is like a family to me because I know at the end of the day I can go to someone on the team and I know they will be there to help me with anything I need," Galanopoulos said.
The football team carries 46 players and Matt has a genuine care for every single player as an individual.
"Matt cares for his teammates on and off of the field. When anyone is discouraged on the team, he's always there to encourage them," senior teammate Josh Weichel said.
Despite his natural athletic nature, Galanopoulos has worked hard for all of his success.
"He's so hardworking and so beyond humble. The amount of hours he puts in for sports and his passion for them really inspires me. He works harder than anyone I know," older sister and alumna Alex Galanopoulos said.
Galanopoulos is considered a role model to much more than just his teammates, but also his friends, classmates, and younger sister, Samantha Galanopoulos.
"Matt is definitely my best friend and he not only leaves a good example for peers and teammates, but for me as well. I truly look up to him," sophomore Sam Galanopoulos said.
It's Galanopoulos's last season here at West, and he's looking to end his high school football career on a high note.
"My personal goal is to be named all-state and I want to be a record setter at the school. I think with the people I have around me on the field and all the work I've done leading to this point, I believe that goal is in reach. I just need to play how I know how to," Galanopoulos said.