Varsity Girls Volleyball: A Chance at History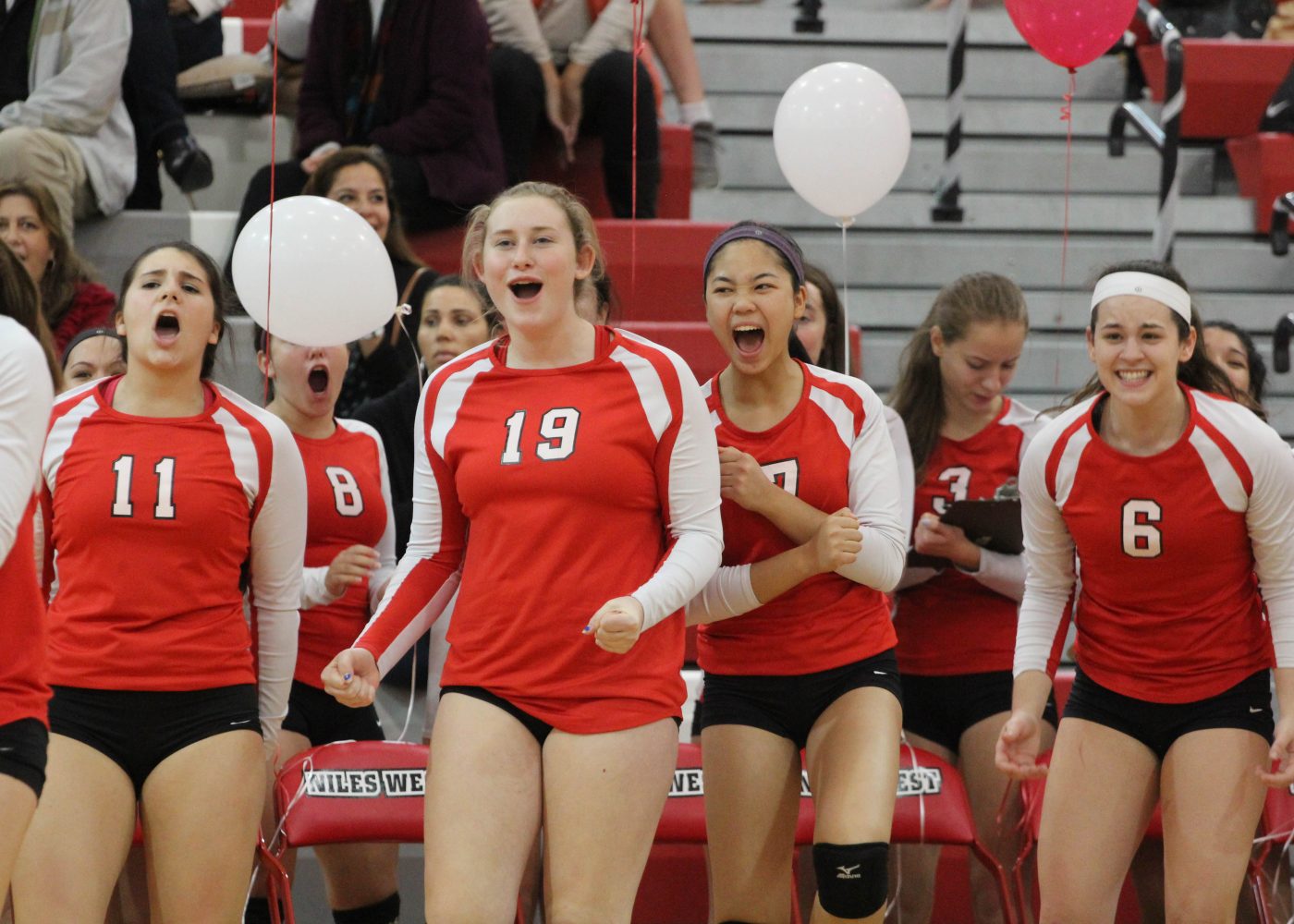 By Farheen Khan
October 25, 2016
The Niles West girls varsity volleyball team has a chance at making history. If they win their next few  games, the next being held at Maine West tonight, the girls will go on to state. The farthest the girls have gone is top 16 at State, which was in 2012.
The playoffs are always a pressure-packed time for teams, but the girls are confident that they will do well.
"Because we are such a strong team this year, I feel as if we have a lot of potential to go far in the playoffs. This year is very different from other years in the sense that the sectional's top ranked teams are very similar in skill level," junior Nicole Zelazko said. "I think this all comes down to who is willing to put everything on the line to win. Whoever wants it the most will get it, and I think this group of girls has a strong focus on our goal, and it is very realistic for us to go down [to] state. This feeling is indescribable, and as long as we keep doing our thing, I know that we can make history."
With the team as strong as it is, the girls know they have a realistic chance to win.
"Being on varsity for three years now, I've learned that playoffs are the most emotional part of the year. Not only is the pressure piled up for top teams, but the underdogs always show up and perform. Because of the sectional this year, I'm particularly excited because this is the first time that winning a sectional is realistic for Niles West. I would love to be able to look back at these years and have left my mark on the walls of West," Zelazko said.
The girls know that even though they have a chance at making history, they shouldn't get ahead of themselves.
"The team and I are trying our best to take it one game at a time. Whether it's the worst team or the best team, you never know who will put the most heart and passion. Rather than looking ahead and losing focus of the next step, we plan to play every upcoming game like it's our last," senior Bianca Tomuta said.
The team realizes that this is the time they need to come together most.
"As a team, we all understand that this is the time to push through any roadblocks. We realize that we aren't individuals anymore, and it's team or nothing. I can't wait to see what's to come these next few weeks. Confidence is key," Zelazko said.
With this being some of the girls last year on the team, winning this game and moving on to state will be even more special.
"It's always an athlete's goal to leave a legacy. Going into state would be an unforgettable experience and definitely something to remember for the rest of our lives," Tomuta said.
Senior Bethany Keith is proud of how far her team has come and is looking forward to seeing what's next.
"I feel very grateful to possibly have the chance to make it to state. My team has worked very hard from pre-season all the way until now to accomplish what we have. State is up for grabs for any team; it's going to come down to who wants it more, and I feel like my team has that determination to win. To make history and go to state would be an unforgettable feeling," Keith said.
Sophomore Natalia Pehar has high hopes that her team will continue to do well.
"My team has been working really hard to get where we are, and going to state would be an amazing thing. Not as individuals but for Niles West history," Pehar said.
Senior captain Eleni Balourdos has given the team her all, and hopes that her contributions will pay off.
"For me personally, it would mean the world to know that my last season, as a senior captain, I was able to contribute to the reason why our team would be going to state. Our team has worked so hard this year to get to where we are and it would be a phenomenal feeling to know that it all has paid off," she said. "Since this is my last season playing for Niles West, this win would mean everything to me because I know that we finally reached our full potential, and that would be the most satisfactory ending for my last memory playing for Niles West."