Dino Perocevic: Faith, Football, and Moving On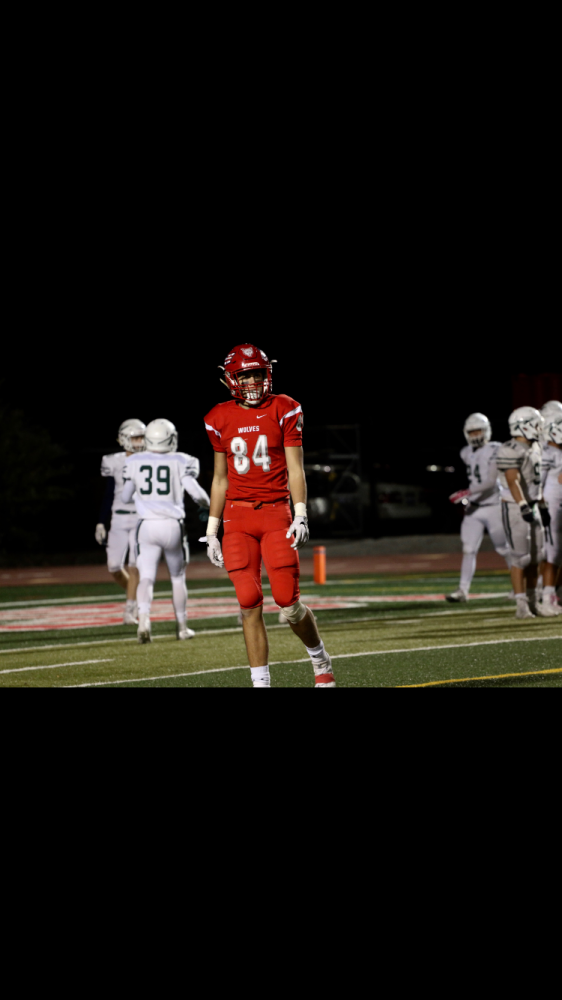 By Duaa Israr
February 8, 2017
It's a quiet night in the Niles West Basrak Stadium, but 30 miles down in Schaumburg, a football is in the air one minute, and the next, in the arms of the unmistakable jersey number 84. Like a reflex, 84 takes off in a sprint, protecting the ball with his life as his legs are moving on their own, his lungs gasping and heart hammering. After 55 yards, a voice rings through the stadium announcing a touchdown — much to the dismay of the home team — but for 84, it's hard to hide the grin as his team cheers loudly next to his ears, pounding on his back.
I was nine years old when I first met senior Dino Perocevic, and over the years, it's been a struggle to understand how someone could be so clear, but an enigma at the same time. It's easy to pretend that Perocevic is just another jock, another number on a large field, succumbing to whatever stereotype we'd assume a football player would have. It's easy, but it's not the truth.
Football, as many know, has played a large part in Perocevic's life. But what once started off as a pastime in his local park turned into an outlet, an escape from whatever went on in his life. His love for the game and his decision to pursue it wasn't a big revelation, but one that came quietly, catch after catch.
"My little cousin introduced me to football and growing up, and it honestly put me on the right path. When I was younger, there were a lot of things around me that weren't good, and I'd go to the park everyday to play football and get my mind off things," Perocevic said. "We'd always talk about Larry Fitzgerald making these crazy catches and then I started making these crazy catches. Eventually, I decided to take football seriously and I continued playing in high school, and I just really loved it. It was probably the best decision of my life, and I thank him for that."
Perocevic saw what was once a dream become a reality as his parents drove him across the region to get to practices and summer camps, supporting him every step of the way.
"When I was younger, my mom always told me to follow my dream, like any mom would, but she actually helped me go through with my dreams, and the same with my dad. They supported me in every way from driving to seven on seven, to Rockford, Wisconsin, Indiana. To help me get better at what I do."
But his journey did not go so smoothly, and Perocevic was faced with a tragedy that altered the way he approached football. Now, more than ever, football became his everything and the way to honor his cousin, Miran, who recently passed away.
"My cousin died, and he had really impacted my life. He was the cousin that got me through everything: how to deal with pain and injuries. He taught me how to deal with struggles on and off the field. When he died, it was like a part of me died. He had always helped me out, and not seeing him around really hurt. I just play for him and I do what I can do for him."
With the death of his cousin, Perocevic made the decision to change his jersey number to honor the man who shaped his life, but he ran into a roadblock. Fourteen, which was his cousin's number, had already been taken by senior Johnny Pabst. Although the number was taken, Perocevic wouldn't have anyone but Pabst wear it.
"He wore 14 as quarterback at Amundson and I wanted to honor him, but our quarterback took that number and wears it with pride. After that, I decided to wear 84 because growing up, I watched Randy Moss and he went from 81 to 84 and I just thought it be cool and I'd do the same."
Many of Perocevic's teammates admire the man that he is — one who puts the team firsts and is always ready to celebrate victories, whether they're someone else's or his own. Senior Greg Leftakes reminisces about their feeder days, and despite how much they've all grown, Perocevic still has the same heart of gold.
"I've played football with him since feeder, and I never thought that he didn't care about the team or cared too much about himself. Sophomore year when he didn't play that much, he never let it get to him, and it only made him work harder. I always loved giving him a big shoulder bump after one of us scored. Even when he wasn't the one making plays or scoring, Dino was always the first one there to celebrate with one of us. He always puts the team first and truly cares about his teammates around him," Leftakes said.
For every task Perocevic takes on, he gives it his all and doesn't stop until his goal is achieved. Senior Matt Galanopoulos credits Perocevic's immense change over the course of his four years to his ability to adapt and the determination he puts in.
"Dino is very hard worker and dedicated kid. It showed a lot from his sophomore year to his junior year when he gained speed and strength. It also showed again from junior to senior year when he became a true threat and a receiver. He was a guy who we could trust to make big plays and would punish teams who didn't cover him," Galanopoulos said.
Although football is extremely close to his heart, his religion also plays a big part in who he is and who he strives to be. Perocevic is a Muslim, and his relationship with God has always been a big factor in every decision he makes.
"Islam really means a lot to me because when I was younger, I went to the Muslim Education Center and Saturday school. It really taught me about character, how to be humble, and patience. Patience  is a key thing in life because without patience,  you're nothing. Even when I was down, I saw forgiveness and mercy from the Lord and He helped me get through it all. When you fall down, you gotta ask the Lord to pick you up."
Ramadan, the month of fasting in Islam, has been observed in the summer for the past few years, and like many Muslim athletes, Perocevic faced the struggle of fasting while playing football. He would spend long, grueling hours in the sun committed to his sport and his religion, becoming an inspiration for his team.
"In the really, really hot days, in 90 to 100 degree weather, I'd fast and play football from six to 11 in the morning. I would go though my day like that, starving, but it was for the greater good and what the Lord wanted," he said.
One of Perocevic's closest friends, fellow teammate and Muslim Ismail Patel, was right next to Perocevic as they fasted and and went to practices together. With a bond like no other, these two brothers are there for each other no matter what, pushing each other to be the best versions of themselves.
"My relationship with Dino is unbelievable, on and off the field. Off the field we are always together and we see each other everyday. My family and his family love each other, he is literally my brother. We are never focused on being mediocre. We would always be at the gym and take no days off," Patel said. "We were never satisfied and wanted to get better everyday, but we would also be at the mosque and pray next to each other all the time. We'd make long wishes to God after our prayers and God is surely answering them slowly. The most important thing we do is that we stay humble and hungry. We are always humble because it just defines who you are as a character and always hungry to simply get better."
With the current political climate and the belief that Islam is a religion filled violence, Perocevic does not shy away from educating people and showing them the truth. In fact, he strives to be a better Muslim everyday on and off the field so that others know what Muslims are really like, and that a few bad people do not represent Islam as a whole.
"I see a lot of people hate on Islam because they just think it's terrorism. To me, this religion is perfect, but the people are not perfect. People will do things out of anger and say that it's in the name of Islam when it's not. It says in the Quran that we have to have peace and if your ever go to a mosque, everyone there is peaceful and welcoming. We all love each other," Perocevic said. "It has impacted the way I play because as a Muslim, I play in God's name. I want to be the best version of a Muslim I can be and a representative of Muslim people because that will influence what people think of Muslims."
Perocevic's devotion to his religion has been noticed by many people, and his teammates admire him for it. Despite fasting, Perocevic was still on the field, working harder than ever before. Leftakes describes the long practices they would have to attend and how he looks up to Perocevic for everything.
"Not only does he display greatness on the field, he shows way more off the field. He's so talented, but he's really just a great person to be around. He is always motivating people and he makes everyone around him happy. He's personally taught me so much not only as a football player, but as a person," Leftakes said. "In the summer when he couldn't drink water during the day, he would still come out to practice and work harder than everyone when he could have easily sat out or not come at all. He was still always with us, and not once did it affect his performance or character. The fact that he was willing to do all of that for the team really shows what kind of person he is. He's a great role model and I really do look up to him as a leader. He's so driven and motivated and he can do anything. I look up to him because he leads by example. He's a great leader and also a great friend. He really cares about the people around him, and I wish I was half the man that he is."
Football coach Scott Baum is immensely proud of Perocevic and how far he has come. Baum, who has seen Perocevic grow up in front of him from the feeder days, is in awe of the man he has become today.
"I met Dino when he was in fifth grade doing feeder. His development, not only physically because he's grown six feet since that time, but as an athlete, is amazing. I'm amazed with his attitude in the summer with his religion and fasting and to see what he did, what he sacrificed. He's been working through all that stuff to be the kid and the player he's become," Baum said. "I have a good relationship with him and it started because I had his older sister in class and she really paved the way for Dino. She inspired him to be a good kid, it's been awesome. The cool thing about Dino is that he loves to play football. I had said last year that whoever gets him or wherever he goes, he's a real steal. His size and target helps him, but his work ethic got to him to where he's going."
After an anxious several months, Perocevic received his first college football offer from Robert Morris University in Chicago, Illinois. What was a dream come true became so much more when he discovered that Patel would be joining him at RMU as well. Perocevic admittedly got emotional when Patel called him to give him the news.
"Our future at RMU will be really successful Inshallah [God-willing]. We will not back down from any adversity that stands in our way and never quit. Football has given us life, and without it I don't know what we would be doing. After praying for years that we will play college ball together, our dream has come true and our hard work payed off," Patel said.
Perocevic has everyone in his life to thank, from every coach he's ever had to his parents and his sister for getting him to where he is today and moving on to the next chapter in his life. Although the places he's practiced have come and gone, his love for the game will never change.
"I've been blessed with the best coaches and teammates and I owe a lot to them and the Lord. Football led me to all of them and I'll never forget the brotherhood that we've created," Perocevic ended.