Boys Varsity Basketball: The Fight for the Trophy Continues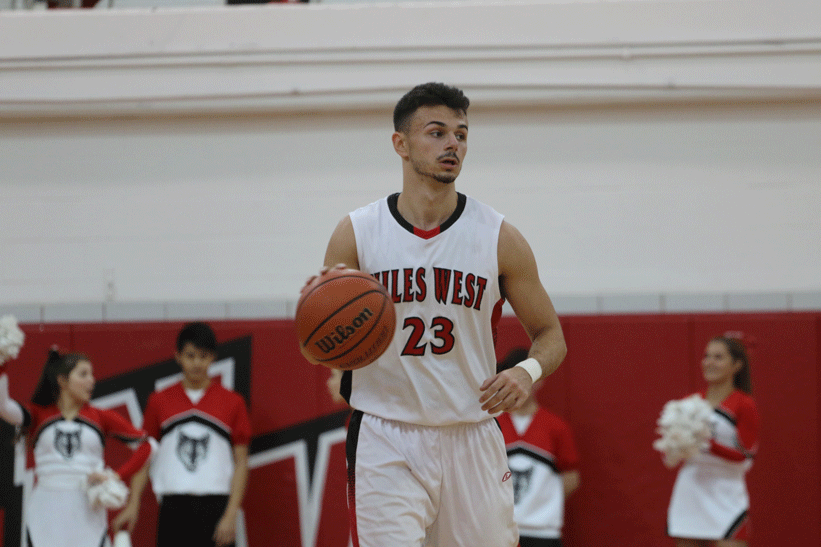 By Farheen Khan
February 10, 2017
The Niles West Boys varsity basketball team is set to go up against their crosstown rival Niles North on Friday, Feb. 10. The game will take place at North, starting at 7:00 p.m.
Recently, the team has had more success due to focusing more on the process instead of just the winning. They've been carrying out their offense better, and have set goals for themselves defensively.
"We have been playing better recently with an increased focus on the process by which we are successful, rather than just winning," head coach Bob Williams said. "Offensively, we are executing more efficiently and getting a higher percentage of uncontested shots. Defensively, we have set lofty goals for ourselves and are persisting in working to attain those goals."
The boys last played against North on Jan. 6, a game which they lost by three points, the final score being 62-59. Since then, they have refocused and gained more confidence in themselves, helping them become better prepared to play against North this time around.
"We are better prepared this time due to the focused work we have put in to improve. We have met several challenges this year which has allowed us to build a strong, deep-seeded confidence," Williams said. "Our biggest challenge this year has been to believe in ourselves so we can focus on playing the way we practice. I believe we are well-prepared to meet this challenge versus North."
Senior co-captain Johnny Pabst believes that with good defense and shot selection, the team has a chance to win.
"We need to play tough defense and make them take difficult shots. If we take good shots and be patient on offense, we should be in good shape," he said.
The team always looks forward to playing against North because it is one of the biggest games of the year, and the game means a lot to each individual.
"Knowing this is one of the biggest games of the year, there's always that extra push at practice each of us gives. We go through their style of play in practice every day and focus on what they do for us to be successful," senior co-captain Mirsad Mackic said. "Every player on this team will tell you how much this game means to us. Playing against our biggest rival is always a huge deal."
The entire team is concentrated on getting the traveling trophy back to Niles West.
"We have beat North the last two years and were able to retain the trophy until this year. We played them earlier in the year and lost a close, tough game. Knowing they beat us earlier in the year, we are all now focused on getting back that trophy," Mackic said.
With the season close to ending, each game is becoming increasingly important to the boys, especially with there being so many seniors on the team.
"Every game is important to me and with the season coming to a close, each one becomes more important because there are only so many left, especially for my senior teammates with it being our last season together," Pabst said.
This is the final time Niles West with play against Niles North in the regular season, making it the final time the seniors go up against them. They've always enjoyed playing against North since it's such an emotional game, and they hope to make this last one a memorable one.
"It has always been fun playing them. There is no other game in my high school career that has as much emotion and meaning as this one. It's tough knowing this will be the last time of it, but hopefully we can make the best out of this last one," Mackic said.
Come show your support on Friday Feb. 10 at North at 7:00 p.m. It's sure to be a game you won't want to miss.