New Club Alert: We Dine Together
[youtube]https://youtu.be/Ftk9QTJh7tQ[/youtube]
At Boca Raton Community High in Florida, no student eats alone. The club "We Dine Together" was created by a few students in the hope of ensuring every student will have someone to sit with at lunch. Students circle the cafeteria searching for lonely classmates, followed by subtly approaching them in hope of making a new friend.
Following publicity and the spread of this inclusive club, many schools across the nation have begun to adopt their own chapters. Niles West is hoping to join this movement starting next fall.
Club sponsor and math teacher Robert Nortillo plans to gather a core of interested kids to meet a few times this May to organize and strategize so that the club can be active during every lunch period on the first day of school next fall.
"When I watched this feature video on CBS I immediately thought to myself, 'We have to do this here. Who can we get to start this club?' After walking around for almost two weeks asking myself that question, I realized that I need to take an active role in starting it," Nortillo said.
The objective of this club will be to create a welcoming place at lunch time for students who feel as if they have no one to share it with. Nortillo notices that there are kids out there — probably more than any of us realize — for whom lunch time is the worst period of the day because among hundreds of students who share the same lunch period, they still end up sitting alone.
Due to the size of our school (which is somewhere around 2500 students), there are bound to be plenty of kids who can and will benefit from this club. Though a club does not have to exist for this sort of friendly outreach to happen, it will be able to encourage students to engage in this behavior more intentionally and more often.
"Students can be a part of this club and make a difference, even if they don't feel comfortable looking for students who are eating alone and initiating conversations with them," Nortillo said. "We will need lots of students are are just willing to sit together in the cafeteria for the purpose of creating a welcoming table for any kid who wants to join them. I think lots of kids would be willing to do that."
Principal Dr. Jason Ness is strongly in favor of idea. As he reflected back on his high school experience, he said he wishes that he could have been a part of a club that showcases the inner layers of a high school community, such as this one.
"It will create a community where people care for each other and create connections. No one is invisible here. It's another example of the humanity here at the high school, and it's an example of everyone looking out for each other," Ness said. "I wish I could go back and reach out to the kids who needed it — I know it would have made their day a little bit better. I think it'll be remarkable."
Senior David Hochberg wishes this club had come about sooner. Though he will not be able to be a part of it, due to graduation this spring, he is confident that the club will make a difference in the day-to-day lives of many Niles West students.
"There are always plenty of people who can benefit from a having an extra friend or two, and the best part about this is that it will make friendships that wouldn't have naturally come about. It makes me wonder how many new relationships I would have made if I had reached out more — I still can," Hochberg said.
The first meeting will be held 
Thursday, May 4
 right after school in the Student Activities Center. Will 
you 
make a difference?
About the Writer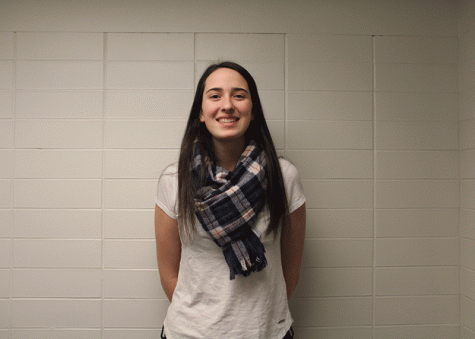 Nicole Zelazko, Arts & Entertainment Editor
Nicole Zelazko is the Arts & Entertainment editor for the NWN. When not playing for the school varsity volleyball and basketball teams, Zelazko enjoys...