2017-18 Girls Varsity Volleyball Preview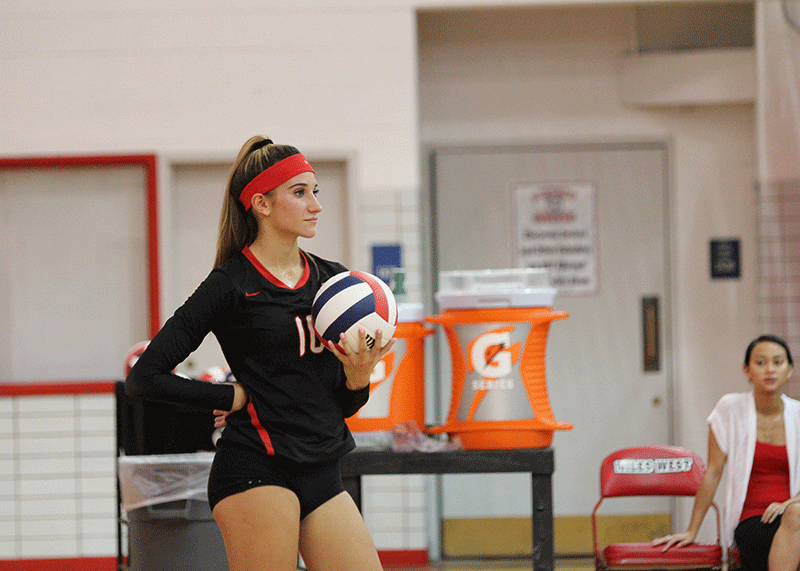 By Isabella Gil
August 29, 2017
As the school year begins, the Niles West girls volleyball team starts the season out on a 3-0 winning streak, with hopes to continue on the path of last year's success.
Varsity coach and gym teacher Stacy Metoyer admits that she is looking forward to this season, and that last year's experience against some of the best teams in the state will influence this season as well.
"Well I think our team will perform great this season because we have a lot of young girls coming up. We also have a lot of girls from last year that have good state experience on our team, so I think we are going to do pretty well. I always think we are going to go as far as we did last year, better yet we will go further," Metoyer said.
Other than the obvious goal of repeating their success from last year, Metoyer has many other goals for the season.
"We have a couple big goals, beating Niles North is always our first goal. The girls also said that they wanted to get as far as they did last year (state). Also, the girls said they wanted to win conference because we have never won conference," Metoyer said.
Even though the season has just begun, Metoyer believes that the team shows a lot of promise but also has some work to do.
"I would say our strength is probably serving, we have a lot of good servers this year and I will be expecting a lot from our serving game. We also have a strong offense and we have some new-comers that are strong on defense. Overall, probably serving is our best," Metoyer said.
Junior and team captain Natalia Pehar is looking forward to starting the season off right and is excited to bond with the new players.
"I'm excited to start off the season with a good record and to achieve my title as the highest amount of kills on the team. Also, I'm excited to keep a close bond with the team in order to be successful and have a good season," Pehar said.
Senior Gian Denila is eager to play with her team this season and believes that their connection on and off the court is one of their biggest strengths.
"Well what I'm most excited for this season is getting to play with my team. We connect really well on and off the court and I really think we can get far with how close we are as a team," Denila said.
The pressure is also on for these girls as season starts because of last year's outstanding season. Many have been asking if they will do it again, but the girls know that teamwork and hard work will lead them to success this season.
"I think we will go to state again if we keep the chemistry on the team good and put in the effort in the gym, then we should be more than capable to achieve that again," Pehar said.
Make sure to come out and support the girls as they take on Maine East on Wednesday, August 30th at home.
Contributions made by Sidney Hines