Niles North Football Suspension Effects Felt at West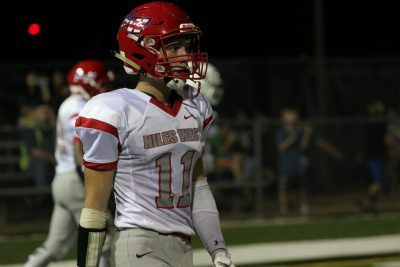 As the community awaits resolution to the ongoing investigation at neighboring school Niles North, the Wolves have their eyes on Friday, Oct. 13. The Skokie Skirmish, the annual cross-town classic for Niles Township football programs, cheerleading programs, and fans, is a decades-long tradition that has become a symbol of competitive spirit and pride for West and North alike. The Skirmish is — according to senior Shawn Campbell  — "the only game that matters."
"I feel very heartbroken because many of the players on our team have been working hard for this one game," Campbell said. "We could care less about how the rest of the season is going because all we care about was [playing] our rivals, and the others weren't as big of a deal."
The game is still two weeks away, and no official determination has been made regarding cancellation, forfeit or postponement. But many students at West already feel a sense of loss.  
"Me and my teammates were a little disappointed that we won't go against North this year. We were looking forward to getting our trophy back," junior Jonathan Khoshaba said. "Going against them every year is something we always look forward to."
Senior Phillip Abonce concurs, likening the Skirmish to games on the big screen. 
"Our cross-town rivalry is kind of like what you see in movies, rivals playing each other on homecoming, and it's supposed to be the game of our lives. If it were to get canceled, it would be really upsetting to me and other seniors," Abonce said.
For West's cheerleading team, this game is historically the biggest moment in the fall season. Although senior and varsity cheerleader Christina Lee is disappointed, she is trying to find the positive in the situation.
"I don't think [the suspension] was too harsh of a punishment because hazing is unacceptable, and for North's athletic heads to not [take action during the investigation] would make it seem like their actions were tolerable, which they aren't," Lee said. "It really sucks because, besides it being [North's] homecoming, this is the game everyone looks forward to the most. Being that this is my last year, I'm sad because the fans are always super hyped and it's just an overall good time to see friends from North and have a little friendly competition."
Possibly not battling Vikings for the traveling trophy disappoints senior Brendan Micor, but he is sympathetic to North and the steps being taken. 
"Although I do respect our rival North, I think that overall, no matter who it is, when hazing is involved, the correct action is to be used. I feel that the suspension is pretty fair, and I think that it should keep moving forward until they get to the bottom of it," Micor said. "Personally, that is not how I would want to get a win, especially against our rivals, and most definitely is not the way I [would want] to go out as a senior. Although a win is win, I'd like to earn it rather than have it given to us."
Editor Abby Davis and staff writer Sarah Cohen contributed to this story.