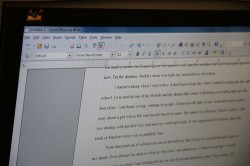 It's a new year with new schedules, new students, and now a new program installed in all of the computers of Niles West. For many reasons, system-wide licensing Microsoft Office has replaced with Open Office, which is not as new to our district as students may think.
"[Open Office] has been installed on every computer for several years," says chief technology officer Guy Ballard through a letter shared among the staff.
The most appealing reason is cost, according to Ballard. Microsoft Office has a licensing cost for every machine, and an additional cost of every upgrade, which would cost the district over $40,000 a year for more than 2,000 computers. Open Office is free, including upgrades.
"Between Open Office and Google Docs, District 219 has a robust, constantly upgraded, free suite of extremely powerful tools," says Ballard.
"Open Office is a functioning equivalent to Microsoft Office, and it's free," says technician Ryan Scholl.
Open Office works identically on Windows, Mac, and Linux.  Since the class of 2014, upcoming freshman are provided with soon-to-be system-wide netbooks, which will allow them to run all open-source software, including Open Office.
'Within three years, every student will have a computer installed with Open Office," says Ballard.
Open Office will also open your Microsoft and Excel files. Additionally, for those who use PowerPoint, PowerPoint Viewer will be installed on all classroom and office workstations. Open Office is almost identical to Microsoft Office for composing, which provides easy adaptation for Microsoft Office users, said Ballard.
"We can report with confidence that the freshmen reported very little difficulty in adapting to and using Open Office during the 2010-2011 school year," says Ballard.
"[Adapting to Open Office] is really easy. You get the hang of it pretty quickly," says freshman Yiannis Papasotiriou.
Some of the upperclassmen and teachers disagree.
"[Open Office] is okay, but I still prefer Microsoft, because I'm used to the program," says senior Monika Isaac.
"I'm a creature of habit, and I'm not familiar with the program. Honestly, I'm going to use Google Docs from now on," says English instructor Paul Bellwoar.
For those in need of additional support, instructional videos are accessible through Atomic Learning.