Parent Concerns Heard at School Safety Forum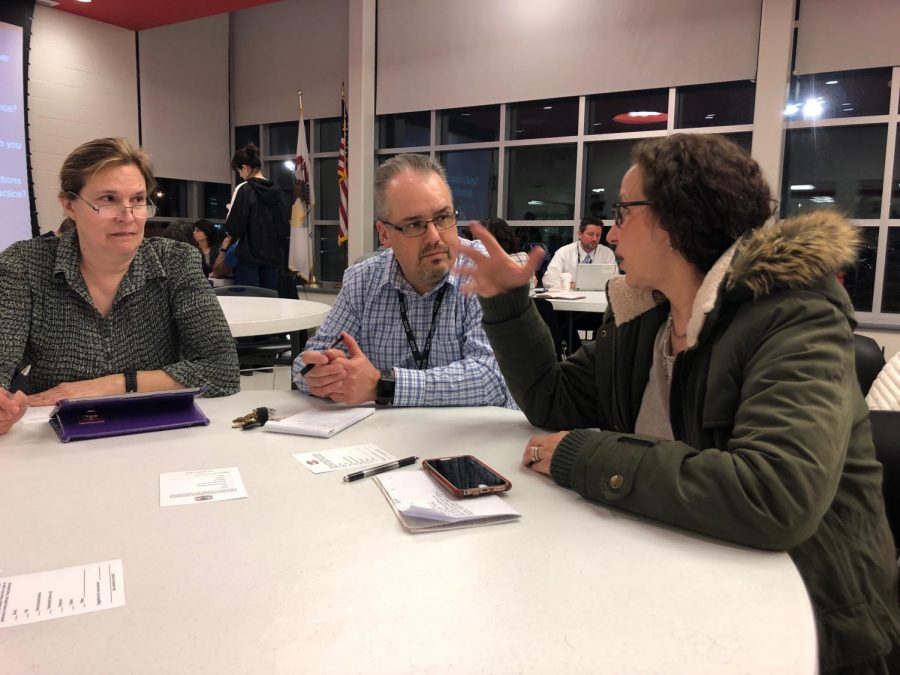 District 219 held parent forums both at Niles North and Niles West on Thursday, March 8, where parents voiced concerns on previous lockdowns, current safety procedures, and general safety. The forums were moderated by administration and board members.
Over the 2017-18 school year, the district experienced several threats including a lockdown at West in October and bomb threats at North, one of which required an evacuation. Parents' safety concerns have risen in the wake of nationwide shootings, and many shared experiences that caused them to question security procedures. Parent Helene Diamond questioned the school's ability to prevent intruders.
"With the Parkland thing, for instance, it seems like, after the fact, all the kids knew who it was going to be. He had been approached several times. Nothing could be done. There used to be a lot of talk about 'zero tolerance.' It seemed like [Marjory Stoneman Douglas's] hands were tied, but the [students] knew he was a ticking time bomb," Diamond said. "[West] is always open. I was there for a track meet; my husband walked in with a backpack. The door to the field house is wide open, and people are coming and going. We could be sitting ducks."
A presentation from principal Jason Ness covered measures taken to ensure safety:  canine searches, annual drills with the Skokie Police Department, and numerous security cameras.
Assistant principal Mark Rigby then emphasized the importance of student relations with faculty, referencing student actions taken during the October lockdown.
"If you ask me, more important than anything else is the relationships that we have with our students. Not [even] us, but our teachers. It's a relationship that we develop in this building so students feel safe to come say something if something is going on," Rigby said. "During the lockdown in October, a parent called 911. But before that, there were kids in the Dean's Office crying because they had seen a gun in the building. The most important thing is that the students have a connection with someone in the building. They're the ones who know before we do."
The Skokie Police department spoke in detail about communication with the school, including a tip they received last Friday, March 2 that required the two parties to be in constant contact.
After several parents shared their thoughts throughout the whole room, the parents separated into small groups that were each orchestrated by administrators with specific guidelines to help keep the conversation focused on concerns and recommendations.
Following group discussion, each table presented their concerns, many of which centered on issues with communication. Parents suggested changes to current policy, including the implementation of updates through text messages, offered in multiple languages.
Parents were pleased with the forum as it let them alleviate growing concerns and propose changes. Many were interested in a follow-up email that promised to outline the thoughts and feelings of the entire event.
"[The forum] let us talk, and it heard us," parent Patty O'Malley said. "I thought it was a great idea and a great thing to do. I would be more interested in the follow-up."
The school will be employing the information received from the forum to assist in a security audit.