Chromebook Enrollment, In Review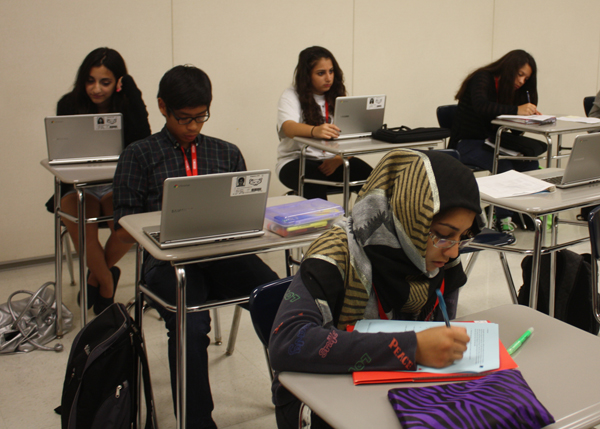 Hang on for a minute...we're trying to find some more stories you might like.
District 219 initiated the biggest tech change the district has seen since rolling out the one-to-one Chromebook program. The formal enrollment process finished at Niles West last week, impacting all students. Beginning Tuesday, Oct. 9, students must have completed the enrollment process to get internet access. New wifi credentials will be needed to access the internet on personal devices. Enrolled Chromebooks will automatically connect to the internet, but new credentials will not be issued to students who have not enrolled.
The enrollment process has brought a large number of changes from the standpoint of school management. According to district communications, these changes are consistent with the law and with policies at nearby school districts. In addition to legal compliance, it is a tool for the school to check up on devices and to repair them as needed. 
Oyindamola Idowu, the new Chief Technology Officer of District 219, is spearheading these new changes, overseeing implementation in all buildings. She believes that school issued materials should be the primary way to access and work on school-related materials.
"When we give out the Chromebook, that is the device we expect you to use," Idowu said.
However, sophomore Alma Duskic didn't turn in her Chromebook because she doesn't use it.
"I haven't used my Chromebook since freshman year–I don't know where it is, and I didn't bring it in. They cut off my wifi, so I can't use that anymore and use my hotspot on my phone," Duskic said.
Enrollment and related costs are tied to internet access, even if students don't use their Chromebooks. A common concern among students, though, is if they lost or broke their Chromebook and don't need it to complete school work, the fines seem unnecessary.
The rationale behind requiring repairs and replacement of Chromebooks is that they are district 219 property and that they should be students' primary methods of doing schoolwork. When students graduate, they may take Chromebooks with them; until graduation, Chromebooks are like library books or textbooks in that they belong to the district and are subject to fines for loss and repair.
According to Idowu, the process of enrollment for each Chromebook is simple.
"First we wipe the device … that takes about 30 seconds … then after that, we enroll it in the management console which takes another 30 seconds," Idowu explained.
This process allows the school to use Google's management console to monitor all d219 Chromebooks, blocking sites which aren't educational or may be deemed harmful or in violation of CIPA (Children's Internet Protection Act). The way that this works is that any internet traffic Chromebooks access must pass through school firewalls first, being partially decrypted in order to find enough information to decide whether or not to restrict access. However, measures are in place to make sure that private data stays private.
"So here's the border with SSL traffic, and there's also an ethical line to it. We're decrypting SSL traffic but there are specific categories that we're not decrypting," Idowu said. "One is banking. So if you open up a browser and you go to bankofamerica.com our firewall sees it and sees that it's banking information; decryption will be turned off for that."
Private data which Google and the school don't already have access to will be safe. The only major changes from the user standpoint will be blocking of websites and apps, including Netflix, which may be considered unproductive or dangerous.
"This process for me was rather long and unnecessary. I don't even use my Chromebook but I was spammed with emails about dropping it off to get the necessary update. I personally did not drop mine off and now I'll have to make time to go to the tech center to get that done. I think that having the seniors do this is absolutely pointless just as myself many of them don't use their Chromebooks and the ones that do aren't doing anything bad," senior Umar Ahmed said. "I think this update won't even yield that many benefits of the time trade-off to the actual security benefits alongside the other reasons listed will have been worth it."
Some students are impartial, citing that websites or services they frequently use are still available.
"Honestly, I don't care. I'm glad that I can still … listen to Spotify since I thought they would block off everything," sophomore Marija Kraljevic said.
According to Idowu, as of Friday, Sept. 28, just under 70% of Niles North Chromebooks had been enrolled. About 10% of that enrollment happened after the initial window beginning Sept. 11. West's statistics are not yet available.