Assistant Principal of Operations Mark Rigby Resigns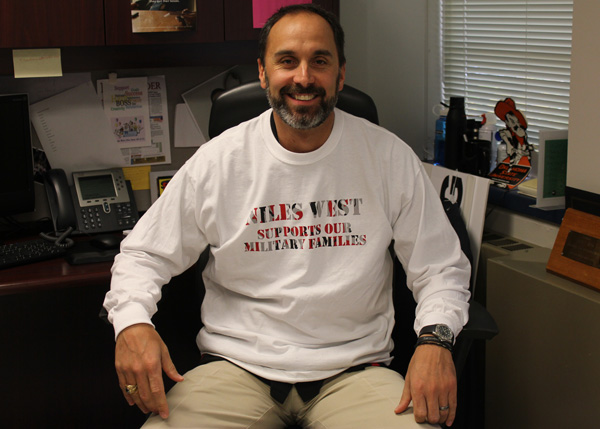 Mark Rigby resigned as Assistant Principal of Operations, bringing closure to an investigation that began in early November after three employees were escorted out of Niles West. Union President Tim Miller announced Rigby's decision in an emergency union meeting held after school on Monday, Dec. 10.
"Mark contacted me to deliver the message to staff all at once as opposed to having it trickle out," Miller said. "People are frustrated. Mr. Rigby has been here for 20 years. He has worked here as a teacher, as a dean, and chose to work with some of the most difficult students in the school. He's touched a lot of different corners of this school so people are definitely frustrated by what's going on. People think that whatever mistakes that Mark Rigby made, he was making them because it was the best for students, staff, and teachers."
Math Teacher Seema Chandarana began working at West at the same time as Rigby and was devastated to hear the news.
"I don't know what happened, but I do know Mr. Rigby. We started working the same day twenty years ago," Chandarana said. "There is no question of his character."
Throughout November and December, teachers and staff donned buttons marked with a wolf and the letters "MR," to show their solidarity with Rigby. In conjunction, a letter of support was submitted to principal Jason Ness, Human Resources director Tom Kim, and Superintendent Steven Isoye on Tuesday, Nov. 27. Over 200 staff members signed in agreement with the following statement:
We, the undersigned members of the Niles West community would like to express our unqualified support for our colleague Mark Rigby, Assistant Principal of Operations at West. We believe Mark's contributions over his long tenure as a teacher, coach, Dean, and Assistant Principal have made a lasting positive impact on Niles West students, families, and staff. He has gained our respect and support through his tireless efforts on our behalf and his relentlessly positive demeanor. We strongly believe he is an indispensable part of the daily life and educational mission of Niles West. 
Social Studies teacher Chris Schwarz and accounting teacher Eric Lueder helped circulate the letter and deliver it to administration.
"Rigby has been an important part of this school and has done his job well in the eyes of the staff here. So we wanted to publicly show our support for him. This was a movement that involved people from every part of the building," Schwarz said. "Our interest from the start was that this be done professionally and respectfully because that's what we think would serve Mr. Rigby's cause. He's worthy of our support."
English teacher Sharon Swanson reflected on her experiences with Rigby.
"I've been at Niles West for a long time, and I've seen many assistant principals in action. Rigby was exceptional in every possible way. I dealt with him as a teacher, as a Dean, and an assistant principal," Swanson said. "He always offered meaningful support; however, everybody knew he would call them out on their B.S. He is smart, funny, and honest. I cannot imagine another person in this building who would be so missed."
Rigby's secretary, Heidi Richards, shared similar sentiments.
"I have worked with him for four years. We got along very well. I will miss him but that's all I'll say about it," Richards said.
This feeling of support extends to students as well. For weeks prior to his resignation, students noticed Rigby's absence from school. On Dec. 5, a group of approximately 10 students wore shirts that stated "Bring Rigby Back." Junior Kyle Moy shared his reasoning behind wearing the shirt.
"Rigby is a really good guy. Our friend group just decided we wanted to support him and show we have his back. I've known him and he's known my family as well. He's a good guy. I think him being gone is kind of upsetting for people," Moy said.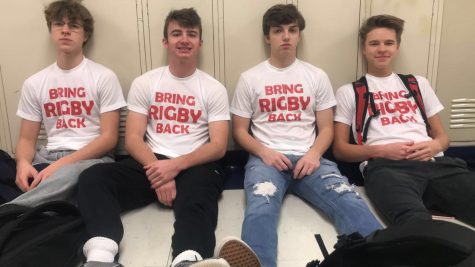 Some students who did not know him personally still feel Rigby's loss.
"I don't really know anything about the situation, but I've seen teachers wearing pins and stuff to support him. I never knew him personally, but I know he was a good person in general," junior Ellen Malek said.
However, others feel they weren't aware of enough details of the situation to formulate an opinion.
"I'm kind of indifferent on it. The whole [investigation] seemed kind of shady and I didn't know what he did for us as a student body so I have no clue how I feel about [his resignation]," junior Jake Cachila said.
Principal Jason Ness shared what some of the next steps are in lieu of the empty position.
"When someone you know and have a relationship with is no longer here, there is a grieving process to that. It's rough for everybody and I think we still have to move on as a school and community through the good times and bad," Ness said. "Certainly this is all new and I just learned about it late yesterday. We're still processing it and coming up with a game plan. I'll be working with the district office and human resources to figure it out."
Lexi Lee and Isa Gil contributed to this story.