Becky Tuecke: Leading the Wolf Pack Since 1978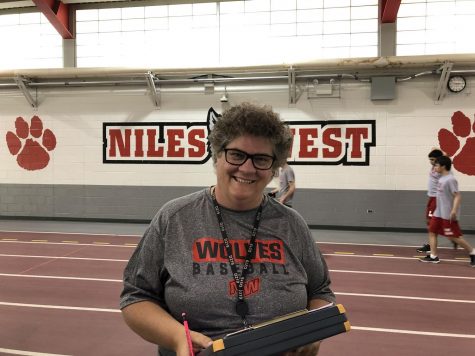 With only seven minutes until the end of the day approaches, all you can hear down the pool hallway are snaps and claps from the field house. Having just under forty students in her ninth period leaders gym class, Becky Tuecke ends all of her classes with a classroom handshake. Having gone through freshmen, sophomore, junior, and senior year here, Tuecke knows a thing or two about high schoolers at Niles West.
Within her four years, she participated in volleyball, basketball, and softball every year until she graduated in 1982.   After finishing college, she found her way back to the place she loved the most. Now in her 40th year of teaching, it is apparent that she never stopped leading the wolf pack.
Starting off her day with her PE junior leaders class, the rest of her day consist of a blend of freshman girls as well as juniors.
"Maturity level. One of the the nice things as to why I like teaching freshman and then juniors and seniors is watching you guys grow," Tuecke said. "Watching the maturity that happens, and seeing change within you guys, you all start to become young adults. I also love working with my senior leaders for the fact that now they will be sent out there and see where they will go."
Teaching and managing large classes of freshman can be a bit chaotic. Luckily, Tuecke has one to three senior leaders help with each class. Now a junior, Nida Ullah will be one of the helping hands in a freshman gym class for the 2019-2020 school year.
"I think that this class is very beneficial to incoming freshman and even to us juniors, we get to learn many leadership skills, through ways that don't bore us. Since we have a really large class, it was very hard to connect with every single person, just learning each others name was really hard, at first," Ullah said. "Throughout the school year we constantly did team building activities that really pushed us out of comfort zone and forced us to work with people we wouldn't go to first pick. She really has us work in a way that will help us and our freshman next year."
Callan Schoenbauer, one of Tuecke's freshman from first semester, loves the environment that her class has to offer.
"My favorite part of being in Ms. Tuecke's was the fun environment she created in her class. She made gym class something to be excited about and not something that you would dread to go to everyday," Schoenbauer said. "A lot of people think that she is mean, but she is really nice when you get to know her. One thing I loved the most is that she took so much time to really get to know each and everyone of us,  she made all of our activities, team building or not, fun and very enjoyable."
Tuecke is going to be considering herself a "freshman" next year since she will have four years left working at West. Here or not, her legacy will stay forever. Entering the school in 1978 and leaving in 2024, her outstanding, and unbelievable  role that she has played in this school and in her students life will stick for a lifetime.