District 219 Superintendent, Niles West Principal Condemn Hate Speech and Division Within District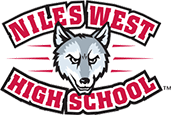 At the regularly scheduled board meeting on Feb. 10, 2022 Superintendent Dr. Steven Isoye addressed the recent hate speech at Niles West High School that occurred circulating the mask mandate protest and walkout.
According to Isoye, "During the past week, our students are feeling divided. We have students that have been told to go kill themselves; we have students that have been called the n-word along with other horrible derogatory comments."
Isoye went on to remind the board and community that the district condemns hatred and bullying.
"Hatred because of someone's beliefs- masks or no masks-hatred because of race, racist remarks, hatred because of religion, antisemitism or Islamophobia, hatred because of gender, misogyny, and hatred because of sexual identity, transphobia, or homophobia. We as a school community have a lot to do and feelings to repair. It can only happen if we recognize and stop what we are doing, so we can talk and listen with the intent to understand," Isoye said.
Niles West Principal Dr. Karen Ritter addressed the community in a Sunday evening email, summarizing the events that took place throughout the week.
"During the walkout, students in the hallway heard the n-word directed toward them. This is not the first time it has happened. In fact, students and adults hear the n-word regularly in school, along with other racial slurs and derogatory comments about religion, ethnicity, sexual orientation and other identity groups at school and on social media," Ritter wrote. "This is disgusting behavior, and it must stop from everyone in our school community."
Ritter also indicated that the restorative practices, set as response to these incidents, will make a difference in the building's environment.
"As part of our equity work supported by our school board, we have already trained over 150+ teachers in restorative practices and democratic classroom leadership, two programs that prioritize relationships and classroom community," Ritter wrote. "Moving forward, we will continue the restorative process of healing from the racial and discriminatory harm caused over the years," Ritter also acknowledged.
According to the board's policy on student behavior, "engaging in hate speech or any verbal, non-verbal, or physical acts aimed at a person's actual or perceived race, color, appearance, sex, sexual orientation, or any other distinguishing characteristic," is prohibited. Students found in violation of this policy may be subject to disciplinary action, including but not limited to:
Disciplinary Conference
Temporary removal from the classroom
In-school suspension
Social Probation
Out-of-school suspension from school and all school activities
It is unclear whether or not any students have received such consequences for engaging in hate speech, as student disciplinary records are confidential.