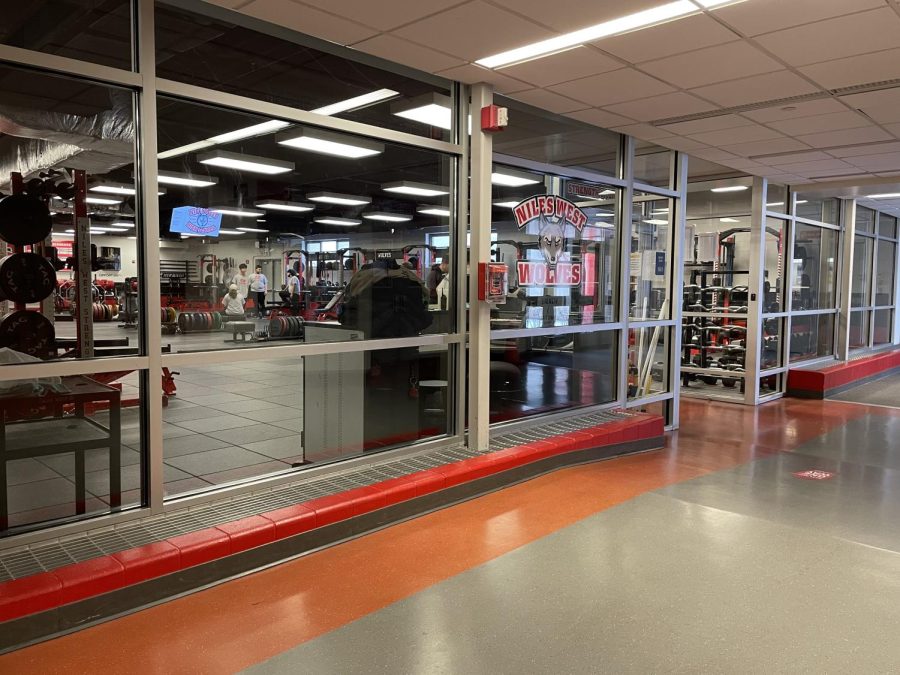 Coaches Respond to Female Athletes' Feelings of Discrimination
Mar 14, 2023
Female athletes have shared experiences of sexism and favoritism in Varsity Physical Education (VPE) courses and in pre-season workouts, both of which utilize school athletic facilities. The main sources of these feelings come from weight room availability during free time, time allocated for pre-season workouts and the behavior of male student-athletes in the weight room. Measures are in place to prevent such discrimination.
VPE runs as an elective within the Physical Welfare department and enables varsity athletes to work out with weight room coaches during their regularly scheduled physical education class year-round. Coaches recommend athletes for VPE, and class sizes and gender percentages are randomized, just like any other class.
"I think that the class is very sexist and the females have been experiencing sexism in the class because football and track boys are favorited and get to do other workouts, whereas other sports don't get to do individualized workouts, especially female sports," junior Nora Schmidt said. Schmidt is on the varsity tennis team and in first-period VPE.
This, however, is not a universal feeling for all girls. Junior tennis player Niki Manojlovic is enrolled in Early Bird VPE and has not dealt with discrimination in her class.
"I don't feel that way, I just feel there [are fewer] female athletes who want to put in that work to become better and become stronger at their sport," Manojlovic said. "I feel like it's more so males who want to get better than it is females. But no, in our class, I don't feel like there's favoritism."
Physical Welfare teacher Jason Macejak, who teaches first-period VPE and collaborates with head Strength and Conditioning Coordinator Thomas Dellota, clarified how sports-specific workouts are requested and assigned during the class. Such workouts result from individual coach requests.
"If you want to do something more sports-specific, talk to your coach. Then if your coach talks to us, we'll get that going with that whole sport," Macejak said. "If a coach says, 'Hey this is the plan that I want to kind of work with Coach Dellota on,' we can implement that. We'd rather not be [assigning workouts] on an individual basis."
Nick Torresso, head football coach and boys track coach, introduced the concept of coaches collaborating with Physical Welfare teachers and Dellota for sport-specific workouts in the VPE curriculum. This is available to all coaches for all sports.
"I had to bring [this idea] to the school and sit in meetings to propose it. I pushed to try and get this done so that we can see if it works here, even though multiple other schools have already proven that having kids in VPE who are in the same sport and train the same way [is] more efficient. So there are some classes where there are more football players–that was upon request, but it's also because I did the research and brought everything to the attention of the Physical Wellness director and the counselors," Torresso said. 
Dellota explained how this system works to support coaches of varied sports.
"What might feel different right now is the track coaches have asked to differentiate and go into specific training just because they workout after [school] and there's [limited] field house space and whatnot. We'll bring [track athletes] aside and have them do their own [workouts]," Dellota said. 
A female athlete who has requested to stay anonymous shared her experience regarding feeling discrimination in VPE. When male track athletes were able to do a private workout, she asked to join in. She wasn't told no but felt that she wasn't wanted in the workout. This athlete felt that the teacher she asked would have encouraged a male athlete who wanted to do this workout, but handled it differently because she is a girl.
"When students are taken to do something else, it is not based on gender, it is based on the coaches who come up to us and want to have input on what their kids are doing," Macejak said. "There are times during class where certain groups will go upstairs. A couple [of] students have asked, 'well who gets to decide that?' and we said, 'they're doing something that their coach took the time to reach out to Coach Dellota and say, 'hey I want my athletes doing this.'" 
When asked about these concerns, Dellota expressed praise for female athletes and a desire to talk with those who are concerned.
"[Discrimination is] definitely something I don't want the sentiment to be, [and] if something's unconsciously being done, I would love to fix it or have that conversation with the athletes who feel this way. It's definitely not my intention," Dellota said. "And we give [an award to] the hardest worker of the week in here, and there have only been girl winners."
A total of 217 boys are enrolled in all VPE classes, compared to 81 girls in total. This means that 27% of VPE students are female whereas 73% are male.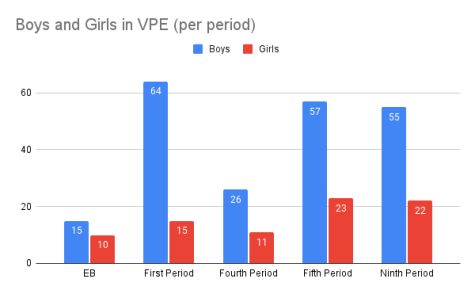 The feeling of discrimination also surfaces in extra-curricular sports for female athletes. It is specifically felt during preseason workouts and in the weight room when male and female athletes share the facilities. 
Senior Dania Khan throws shot put in track and field and feels excluded by male athletes using the weight room.
"We can't really use the weight room other than the days that our coach brings us in and he's supervising us, so none of the guys are like 'get out'," Khan said.
Some female athletes feel it is difficult to get the attention of the coaches while male athletes are present.
"I always feel like I'm competing against them, and competing for the coaches' attention because as female[s], we have to work so hard, so much harder than [the boys] do. It's just light work for them," Schmidt said.
Schmidt and Khan noted the male-dominant culture in the weight room after school, a time that the facility is open to in-season athletes.
"Even after school and with other sports, the weight room is always occupied by the football team, even in the off-season," Schmidt said. "I'm on the girls varsity tennis team and in the past three years of being on the team, we have never been able to go to the weight room or even do off-season workouts because the weight room is always filled with boys sports. Us female varsity athletes have the same rights as the boys varsity athletes, and we deserve the same treatment and facilities as they do. We work just as hard and deserve the same coaching and training as everybody else."
"I would like to see more girls in the weight room and actually have the opportunity to go in there with the mindset that you feel safe there, because personally, I don't like going in there all by myself. It's very overpowered by the male population at our school, so I would definitely like to see girls have their own time to go in," Khan said. 
One thing that is not widely known to the athletes in the school is that they're able to come to the weight room at any time.
"Athletes can still come in on their own time and essentially stay for as long as they want to, but I don't think a lot of people utilize that," Dellota said. 
The schedule for preseason workouts in the weight room is tight due to the high demand of all sports wanting a spot. The schedule is created by Dellota and consists of two slots for teams to come in. The Niles West News examined the schedule and found no discrepancies or apparent favoritism, as all sports were granted equal opportunity to schedule time in the weight room, which coaches took advantage of based on individual team needs.
Dellota sees a correlation between coach expectations and the athletes who use the facilities regularly.
"I think a lot of [the amount of times teams are in the weight room] is contingent on [the] presence and how hard the coaches push them. So for example the football coach is like, 'you have to go, it's non-negotiable or you can't play.' Our water polo coach is like, 'Hey like this is a big important thing to me, I want you here.' Same thing with softball, you know, 'I want you here,'" Dellota said.  "It's kind of the [individual team] environment and the culture."
For some sports, weight room lifting is not a priority based on the nature of their sport. Head girls tennis coach Brad Wilson emphasized that the skills needed for success on the tennis court involve repeated practice on the court more than lifting in the gym.
"I don't stress weight lifting as the most productive use of their time. Our players' primary need is consistency, so they need to hit and they need to play matches. If they are playing right, then they are going to get the kind of workout that they need–the footwork and the repetition–by playing," Wilson said. "If somebody really pushes and wants [weight room workouts], then I will pursue it, but to this point, I haven't had anybody that's been stressing to me that that's something really missing from their game."
Instead, Wilson tries to utilize the spaces that are beneficial to his team. Open hitting on Tuesday mornings is available for both the boys and girls tennis teams on the courts in the field house. Wilson encourages those who are able to take advantage of these opportunities.
For other sports, coaches feel that the presence of their athletes in the weight room is a priority.
"Well, for football it's incredibly important for a few reasons. It's one of the most scrutinized games, one of the most scrutinized sports, especially in youth sports. Physical development is a huge part of injury prevention, so for a sport that's so high contact, it's incredibly important to have pre-season workouts," Torresso said.  "Especially in football, our physical development is incredibly important to the program's success."
With a limited amount of space and facilities for all sports in one season, coaches have to work to find places to practice, not just in the weight room but around the school.
"I know that access to the weight room should be determined by the needs of the sports and of course not whether or not it's boys or girls, or even if it's a particular sport," girls long distance track coach, Blake Magnuson said. "[I've] just had to make sure I could get access to areas for practice. That's [often] the big issue and there [have] been times when I've had to talk to the athletic director to make sure that we can use a certain facility, but again that had to do with other teams that want to use them. I have had to talk about that, but not because I thought anyone was being treated unfairly, but just because I wanted to make sure that we had access to the facilities we needed." 
Niles West must oblige with Title IX, which states explicitly, "No person in the United States shall, on the basis of sex, be excluded from participation in, be denied the benefits of, or be subjected to discrimination under any education program or activity receiving Federal financial assistance." This means that boys and girls athletics must be given the same opportunities, facilities and time because, as a public school, Niles West is federally funded. 
"Too many times things get pushed under the rug because nobody wants to bring it to the forefront. Whether [discrimination] is an intentional thing that's happening or not, it doesn't matter. It's still not right," Interim Athletic Director, Terri Laux, said. "Our main goal is to give everyone a great experience. Whether it's water polo, whether it's cross country, it doesn't matter. Because it's all about the athletes having a good experience and coming back next year or walking away from here as seniors and saying 'you know what I wouldn't have a changed a thing, I still would have played,' whatever sport it was."