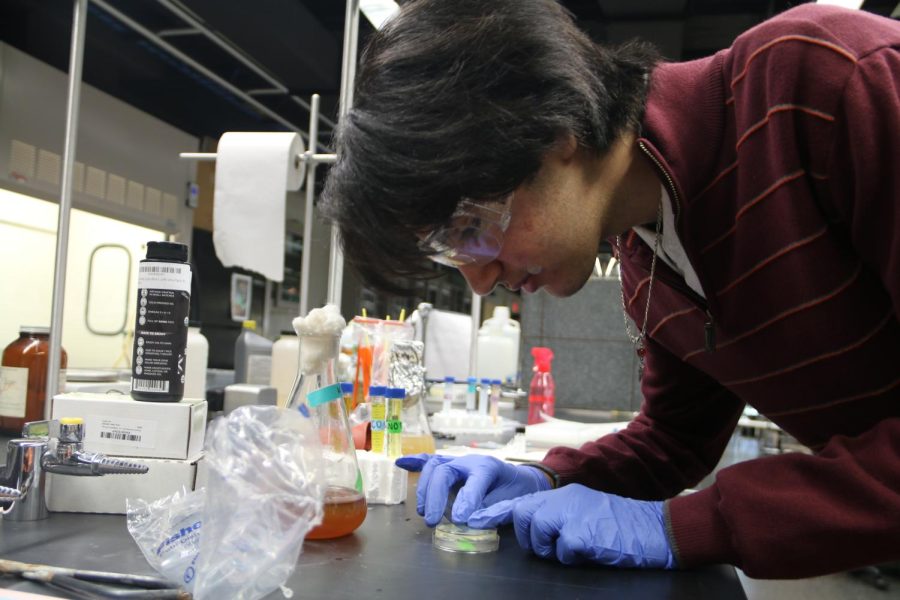 SIRs Under the Microscope
Mar 14, 2023
All year long, the STEM Inquiry and Research (SIRs) students prepare their own individual research projects. At the start of the year, students will start by exploring the scientific and engineering processes by working with model organisms. SIRs students explore and research a wide range of topics to help them identify the area of research they are interested in. Once students have identified their specific field of interest, they will dive into current published research projects to both get a feel for how a research project should be conducted and to help them brainstorm final project ideas. Upon receiving approval for their research idea, students begin the research process.
SIRs students often give class presentations although this process. One of the first presentations students will give is on why their research question is significant. Each student will tailor their experimental setup to fit the criteria and constraints of their project. It is up to each student to decide what their variables are and how often they will collect data. The final part of this process is for students to analyze their results and put their whole project into a research paper and presentation.
Additionally, each SIRs student is paired with a mentor from Northwestern University to help guide students through the research process. Senior Mustafa Al-Diraji, speaks on his experience with his Northwestern mentor.
"My mentor is Caitlin Coplan, a graduate researcher at Northwestern University, and also a Chemistry Ph.D Candidate! I've been working with Ms. Coplan since my junior year. [M]y first experiment, it revolved around physics; a science that was not Ms. Coplan's specialty. Regardless, she still made the effort to provide me [with] resources that helped me navigate the topic I was working with, and also reviewed my research paper/poster! I was successful under her guidance, " Al-Diraji said.
Students will then take their projects and well-developed presentation skills to the regional science fair. For junior Jad Dibs, the regional competition was a very valuable experience.
"Competing at regionals was an encouraging experience because it rewarded all of the work done in the SIRs class this year," Dibs said.
For some students like Nathani, it is her third year taking the class. SIRs is one of the only classes you take all four years at West.
"I learned about SIRs through my biology teacher, Mr. Sayed, and I definitely think it's a hidden gem. The class is unlike any other I've taken in terms of its format. You spend a whole year becoming an expert on one topic and have the chance to work at your own pace. I've taken the class for three years, and it has turned me into a stronger writer, thinker and speaker. It has shaped where I see myself in the future and redefined the way that I approach issues. The class opened doors for me that I didn't know existed. I was able to attend ISEF and learn about research from peers across the globe. I've worked with over four labs at Northwestern to complete my projects. I've had access to lab resources that are typically only available to grad students. [The] research was a defining feature of my high school experience," Nathani said.
Beginning of the 2023-2024 school year, SIRs will also officially count toward fulfilling the public speaking requirement. If you are a current or incoming West student, Nathani has some advice and tips for being successful in the class.
"A common thread amongst SIRs students is passion. To commit yourself to one project requires a genuine love for the subject, dedication, and steady application. The mechanics of doing research are secondary to your enthusiasm and willingness to learn. It's trite but true: ask questions. Have an open mind. The problems worth solving will very rarely have one single answer. The more you probe the complexities of an issue, the more willing you are to find your niche, the more lenses you approach a topic with, the more meaningful your research will be," Nathani said.
In the spring, students put all their hard work to the test as they present their research at the Illinois Junior Academy of Science Fair (IJAS), to ultimately qualify for the Regeneron International Science and Engineering Fair (ISEF).
Congratulations to the following students who placed gold at the IJAS Region 6 competition and who will be advancing to state: Mustafa Al-Diraji, Inaaya Afzal, Cherie Animashaun, Sebin Chirayil, Charlize Chung, Sydney Dao, Jad Dibs, Allison Hoffman, Will Lande, Sophia Lannoye, Zahra Nathani, Derek Kyan, Kunga Ngabtak, Jonathan Nguyen, Krishna Patel, Nabiah Sheikh, Jeslyn Varghese and Mateo Velasco.