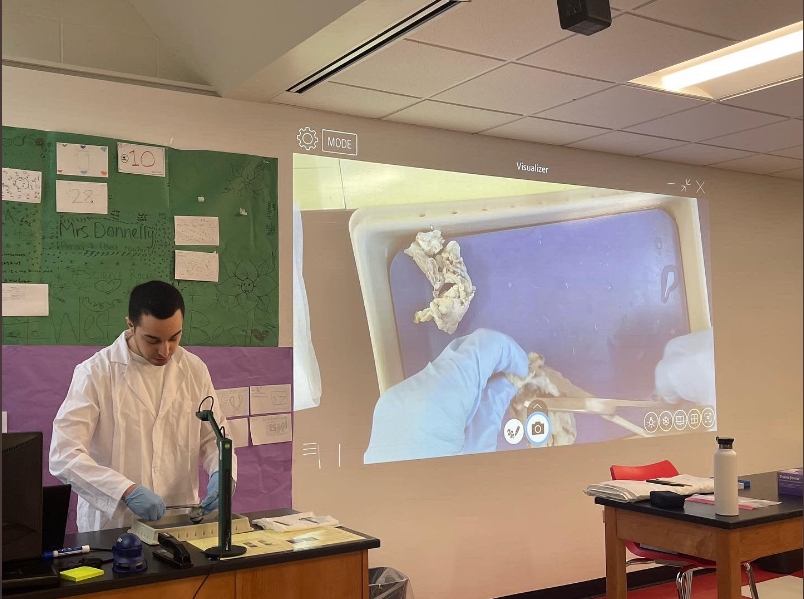 Ali Sayed-Ahmed: Making Science Class Fun
Mar 13, 2023
Niles West's very own biology teacher Ali Sayed-Ahmad has only been working full-time at Niles West since 2019, but has already made an enormous impact on his students.
After graduating from Wayne State University with a bachelor's degree in biological sciences and attending medical school for two years, Sayed decided that medicine was not for him. In 2017, he began working at Niles West as a science paraprofessional.
Sayed was always interested in biology; his high school teacher was truly an inspiration.
"Ever since I took biology in high school I've been really fascinated by it, I think my AP Biology teacher really inspired me because she was so fun and we did a bunch of cool labs. I've always loved learning about what makes living things work and to me sharing that knowledge and excitement about biology is pretty awesome," Sayed said.
It seems that Sayed has taken a page out of his biology textbook by incorporating enticing yet educational labs.
"Mr. Sayed's class is different than my previous science classes because it's more engaging. We do a lot more labs and interactive activities, we also work more in groups which is nice. Mr. Sayed is a really good teacher and the way that he teaches things in depth helps me understand but it's still fun," freshman Ellie Kim said.
Kim says that some of the highlights this year were the CRISPER experiment, which is a genetic engineering technique that is used to modify an organism's DNA. The students used CRISPER to alter the genomes of E. coli. Kim also enjoyed the experiment where the class extracted DNA from fruits.
Sayed has been able to do these types of labs with the help of the Knowles Teacher Initiative. The initiative is for educators who want to become leaders in math and science education. It also provides educators with professional development, grants for classroom materials, support with traveling to conferences and more.
"I wanted to do the fellowship because I feel like I want to be a leader in science education and I want to make an impact that goes beyond just my classroom that eventually helps teachers in this school, district or even in this state. The fellowship allows me to share what I've learned from my professional development with other teachers," Sayed said.
One thing Sayed has been working on with the fellowship is an inquiry into assessments by developing "three-dimensional" tests. These assessments will assess a student's content knowledge, science and engineering skills and cross-cutting content, which is something that cuts across varying sciences.
The students are not the only ones learning something new in Sayed's class, because Sayed has also been taught some valuable lessons from Niles West's students.
"I feel like I've learned so much from West's students because they all come from such diverse backgrounds and different living conditions. So, I try to take what they know from their culture and background and apply it to my classroom. One thing teaching has taught me at Niles West is to be patient, flexible and understanding when it comes to student needs. My favorite part of working at Niles West is getting to know the students and getting to know what they're interested in and helping them learn about it," Sayed said.
Sayed's impact on the school goes beyond the science room, Sayed also coaches the Niles West Esports team.
The team is divided by the five games the team plays, including Rocketleague, Fortnite, Super Smash Bros, Valorant, and League of Legends. Each team also had a varsity and JV team with its own captain. In 2021 the team placed fourth in the state and in 2022 they qualified for state. As a coach of Esports, Sayed leads the team to success.
"Mr. Sayed is really helpful by giving us what we need, but he takes a more hands-off approach and lets us work things out," Super Smash Bros team captain and junior Jonathan Lou said.
Sayed also diligently helps the team grow and solve problems.
"Mr. Sayed is a very supportive and helpful person. Whenever we had an issue he would help us resolve it and he was really persistent about making things right," junior Adam Chen said.
Esports has also positively affected members' lives.
"Esports has been a really positive experience for me and I've learned a lot of competitive skills that also help me outside of the game. The coaches have also supported me and I've learned a lot from them," Lou said.
Team members have access to great opportunities from the team and have met new people through the club.
"For me, Esports was a lot of fun and it allowed me to meet a lot of new people and it's just fun playing competitively. In terms of outside the team there are some opportunities for scholarships," Chen said.
Sayed has helped make Niles West an even better place, contributing to its diverse teams and clubs to teaching science with a new vision.