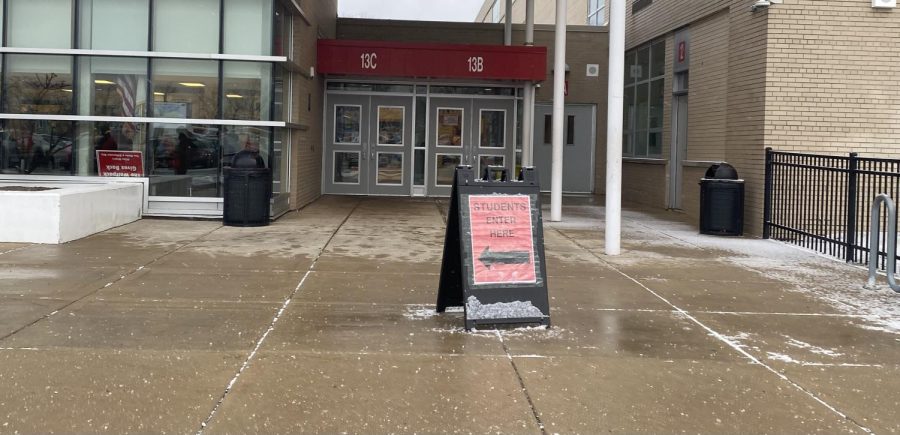 Increase of Staff and Relocation at South Lobby and Door 24 Walk-Ins
Mar 15, 2023
Starting just a few weeks ago, all students that enter the building through Door 13 in the morning, located in the back of the school near the South Lobby, have been redirected to enter from the side door of the South Lobby, Door 13D. Students are met with deans and security guards and have to loop around the room to scan their IDs. Similarly, Door 24 also has a similar increase of staff greeting students.
So, many wonder, why was this change put in place?
"We really are trying to make sure the students understand that it's important that they show ID when they come in, if it's a physical ID or a digital ID. The second reason is, it has to do with kind of just the culture of the building. People like being met with a smile and a hello in the morning and so we're trying to make a welcoming environment when people walk in the door. We've been trying to make more of an effort to be more present at the entrances for the last three weeks," Niles West Dean Tim Dykes said. Dykes is present at Door 24 in the mornings.
Dykes expressed other reasons why these changes are in place to benefit students.
"There [are] two reasons because we are doing this… Reason number one, anything and everything we can do to promote safety in our building, we're going to do it. Kind of reviewing our procedures and our entrances and exits, we kind of saw an opportunity to be a little bit more on top of things at both entrances in the morning," Dykes said.
However, for teachers and other staff members, this new entrance does not have an equal effect. According to Dykes, teachers are still able to enter through Door 13 and don't have to loop around the side as students do.
Since security guards are more present at the entrances, they witness the differences between before and after the changes were put in place.
"I guess this was how their old system was, so many students that were not supposed to be in the building came in from there, causing the rush of people," security guard Vasant Banks said.
Though the new goal of this change hopes to bring more interaction between students and staff, some students prefer the old method of entry.
"I think it's really inconvenient because we have to walk more and it's really cold outside, and it's gonna make me [late] to my classes," freshman Mai-Anh Nguyen said.
Other students have also spoken out regarding this new entrance and think negatively about it.
"I am not sure why students have to enter through different doorways, doesn't quite make sense to me. I enter through the South Lobby doors every day and I have to loop around the room to scan my ID," junior Sulejman Dabeca said.