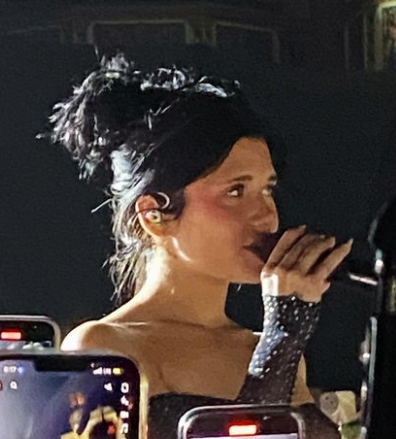 Nessa Barrett's "Young Forever" Tour
Mar 17, 2023
Pop-rock artist, Nessa Barrett, performed at Aragon Ballroom on Monday, March 13. She sang songs from her newest album "young forever", as well as a few from her EP "pretty poison." She was joined by alternative-indie artist Isabel LaRosa, who is best known for her song "i'm yours," which rose to fame on TikTok.
Since Aragon Ballroom is an open-seating venue, you must get there early to get a good spot. Even though the concert was supposed to begin at 7:30, I got there around 5:45. There was a crazy line that ran along behind the venue. I didn't think many people were attending, but to my surprise, there were people that came from out of state to see her. A group of girls behind me said they came all the way from Michigan to watch her. There were people that camped outside the whole day. When I did the walk of shame to the end of the line, I saw many people had left their blankets and food behind. Fans were very committed since it was barely 20 degrees outside the whole day. I got inside around seven, 30 minutes before the show was set to start.
When I got inside, I filed into a spot right away. I wasn't right at the front, but I was so happy I wasn't all the way in the back. Every single person in front of me was at least half a foot taller than me, making it very hard for me to see anything. Nonetheless, all the people I met were really nice, and I relied on watching their phone cameras to see the performance. However, the concert was running a few minutes behind and my legs were hurting from standing. Four girls passed out before it even started.
The concert ended up starting at 8, with LaRosa opening. She sang original songs, "16 Candles," "Closer," "GAMEBOY," "Therapy," "HAUNTED," "HELP," "HEARTBEAT" and ended with "i'm yours". She also sang a cover of Katy Perry's "I Kissed A Girl." The only song I knew was "i'm yours," but I still enjoyed the rest of her set. LaRosa danced around the stage with bright red, purple and blue lights and fog behind her. It made for a very dramatic performance, which definitely fit her set. She also made the perfect decision to end with "i'm yours," because everyone sang along with her and it felt euphoric. I'll be listening to her music more in the future.
It was another half hour until Barrett came onto the stage. After LaRosa, the crowd was so excited for Barrett to perform. Fans started screaming at any sight of movement, thinking it was her. They chanted "Nessa, Nessa," over and over. Still not being able to see anything, I waited for the lights to dim again. Once the lights dimmed, Barrett walked onto the stage in a sheer long-sleeve top and black cargo pants.
She opened with "madhouse" which definitely made the house mad. Excited fans were screaming the lyrics, including myself. The song is very upbeat and has somewhat morbid lyrics, which electrified the crowd.
Barrett is known for writing songs about mental health and her own mental health struggles. The next song she performed, "talk to myself", is about how she struggles with borderline personality disorder (BPD). BPD affects how one thinks about themselves, which is something Barrett has struggled with since she was a kid. It also makes it hard for her to keep steady relationships. The main focus of the song is how she won't take any disrespect from anyone because she thinks mean things about herself all the time. Ultimately, she's saying you can be as mean as you want, but it won't have an impact on her because she says the same things to herself. I was so happy to see this live because it has been one of my favorite songs off the album lately.
Her next song "decay," is about her and someone important in her life. She sings about how she's received hate for being with someone, and how it's them 'against the world' and that even if everyone is against them she will still continue to love them even if they aren't together. "decay" isn't the best song off the album, in my opinion, but it made for a good transition song.
Next, she sang "too hot to cry." The song is exactly how the title is. She praises herself for getting through difficult times, her personal struggles and how she's overcome them, so now she doesn't get upset about the negative comments because it's a waste of her time. The crowd yelled their hearts out when singing with Barrett. It gave a sense of 'I'm better than my struggles' which I really loved.
The next song, "god's favorite," is about Barrett's struggle with severe depression. The lyrics tell a story about how even though she has tried to get all the help she could, she felt like there was nothing that could save her. She didn't think she'd be where she is right now. After fighting her battles, she believes she is now God's favorite and he helped her survive what she struggled with.
Before performing, Barrett gave a short speech to the crowd. She wanted everyone to understand that we are not alone and the strength we carry. She told everyone how blessed she felt to be able to perform in front of us and how she sees herself in her fans. The lights went out and the next thing you know, she was in the crowd singing "god's favorite." For quite a few seconds, I didn't even realize where she was because Barrett is tiny herself, and I had a hard time finding her. Once I did, I couldn't believe how close I was to her. If I shoved my way through the crowd, I would've been right in front of her. Shockingly, I was only a few feet away from her and I was able to get a good angle to record the performance. There were two people behind me that started crying because they couldn't comprehend how close she was to them. Definitely one of the best performances of the night.
After "god's favorite", Barrett sang "dear god." The song expresses how she feels that no one listens to her when she's begging for help. She's dealt with a lot of pain because of her mental health disorders and just wanted to be normal. Contradictory to "god's favorite," this song is about long before she got better. It's a lot slower and darker than "god's favorite," but it still made for a good performance. I would have rather she sang "dear god," before "god's favorite," because I feel like it would've created a better story. I still enjoyed it though.
Barrett's songs are usually really sad but still flow really smoothly. They're not too fast, which wasn't the case for the next two songs "tired of california," and "deathmatch." To summarize, "tired of california," conveys Barrett's hate for celebrity culture. She feels that the public eye is always watching her and that everything is scripted and fake. Another song about her BPD, "deathmatch," sings how she's fighting her own demons. She's literally in a fight to the death with the negative connotations she has about herself.
Her next song, "lovebomb," is about how her BPD episodes affect her relationships with significant others. She often gets angry and explosive out of nowhere, and right after she feels bad and does everything she can to say sorry. Even though "lovebomb," is her slowest song on the album, the fans and I felt moved by her transparency, which made it a beautiful performance.
The next song she sang was "lucky star." Once again, this was Barrett asking anyone for even the smallest bit of help, even if that meant she had to wish on a star. This song is really eerie-sounding and being paired with almost no light, I felt her vocals move from ear to ear. I felt the reverb ring in my head, and it made for an experience unlike any other.
Then she sang "do you really want to hurt me?," and "gaslight," which portray her feelings of mistrust in people. Especially in "gaslight," the chorus sings 'I'm not crazy if I'm right,' saying how she has a right to feel paranoid because she's usually right. Also another eerie performance, but these aren't my favorite songs from Barrett so it wasn't anything too memorable.
Barrett had recently lost her best friend, Cooper Noriega, to an overdose this past June. Her next song, "die first," was released the day after his death. It was originally supposed to be for her mom, who she lost early in her life. After Noriega's death, "die first," had a new meaning to it. This is my favorite song off the album and has been one of my all-time favorite songs since it came out. I've seen all over TikTok that Barrett has gotten emotional during this song at previous concerts, and that was exactly what happened in Chicago. She came to a point where she stopped singing for a verse, but the crowd continued to sing for her. I was very excited to hear this live and I was not left disappointed. Days later and I'm still watching the video I have over and over.
She closed with her newest song "BANG BANG!," and "i hope ur miserable until ur dead," from her EP "pretty poison." In "BANG BANG!," Barrett lets her intrusive thoughts run wild. It's a song about wanting to defeat those who have wronged her. Being a little edgier, this song is really different from her usual music.
The last song she sang was "i hope ur miserable until ur dead," which voices her pettiness toward those that have harmed her. She doesn't want them to be happy again and instead be miserable, just as they made her feel. It was an amazing feel-good song and I felt like I was cleansed of any negativity I carried. I don't know what negativity that may be, but I still felt it. Barrett pointed the microphone towards the crowd and let us sing the last chorus. It was a really heartwarming experience and I felt so connected to everyone around me. As soon as the song ended, the lights went black and she stepped off stage. I was so sad it was over, but I oddly felt a weight off my shoulders. Again, don't know what that weight is but I felt it.
Right after she left the stage, she came right back on with pink confetti falling from the ceiling. She thanked Chicago for having her and told the crowd she loved us. I was not ready for the night to end.
I loved watching Nessa Barrett perform live. I've wanted to see her since the pre-sale tickets went up in December and I'm so happy I got to. Despite her music being very sad and a little ghoulish, she was a very sweet person and I could tell her first real tour meant a lot to her. All I felt was love and appreciation from her when she was singing and when she wasn't. It made waking up for my early-bird class the next morning slightly more bearable. I'm more than satisfied with my experience, and I can't wait to see her again when she comes back to Chicago!