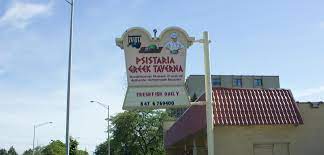 OPA! : Top Three Greek Chicagoland Restaurants
Mar 17, 2023
If you ever have a taste for Greek food, you should consider dining at these Greek cuisine restaurants near Niles West!
Psistaria Greek Taverna
Located right in Lincolnwood on Touhy Ave, Psistaria Greek Taverna is one of the most popular Greek restaurants in the area, my family and I dine at Psistaria all the time, celebrating many occasions there as well. Around last year, Psistaria remodeled the restaurant to give it a more modern look, really brightening up the feel in the restaurant. One of my favorite things about Psistaria, which is something all Greek restaurants do, is setting the Saganaki, which is a greek appetizer with fried kasseri cheese, into flames. The waiter or waitress will bring the appetizer in flames towards the table, yelling "OPA!" as they use a lemon to calm the flames. Saganaki is one of my favorites out of the many appetizers at Psistaria. It's amazing in every bite, from its texture to its taste. One thing to mention is that Psistaria serves portions that will fill you up. Usually, after a couple rounds of appetizers, I am completely full. Some of my other favorite appetizers include Fried Calamari (squid), Gigantes (Greek Lima Beans) and Fried Zucchini. Served with Skordalia, a thick garlic puree spread made with potatoes,  the fried zucchini appetizer is one of my favorites. The crunch and crisp from the fried zucchini with the smooth skordalia provides a great mix of texture, with an incredible taste- especially at Psistaria. Along with appetizers is the iconic Avglomeno soup, which is egg-lemon soup. Psistaria's avlogomeno is truly delicious. As for the main dish, I like to order the Chicken souvlaki meal with potatoes.
2. Plateia Mediterranean Kitchen
Another restaurant with amazing Greek food is Plateia. I've been going there since I was a little girl and the food just continues to be amazing.  With that said, I celebrated my seventeenth birthday there this year and enjoyed every moment of it. The restaurant is located in Glenview. I usually start off with the creamy avgolemono soup, which does not disappoint.  Along with this, the Kolokithokeftedes, fried zucchini fritters with herbs and Skordalia, are absolutely scrumptious. They are made a little differently than how Psistaria prepares them. They are thicker and larger and are stuffed with more vegetables, with a patty-like shape. Also, the iconic Horiatiki salad is my favorite. As for the main course, I like to get the Wrapped Chicken Pita Sandwich with french fries. Paired with Tzatziki, this meal always hits. Also, the outdoor seating is truly breathtaking.
3. Mykonos Greek Restaurant
Finally, located in Niles, is another classic Greek restaurant. One thing to mention is how beautiful the restaurant is. The blue and white colors give the Greek vibes, and the covered outdoor area is also a plus. The appetizers at Mykonos are also amazing, like the Saganaki. One thing to note is that the Avgolemono soup is to die for. Also, the kolokythakia (fried zucchini) is a great texture with much crisp. When I want to eat a good Greek dinner, Mykonos is the place to go.
Overall, these are my top go-to places when I crave Greek food. Growing up going to each of these restaurants allowed me to learn more about my culture, especially through the delicious foods.