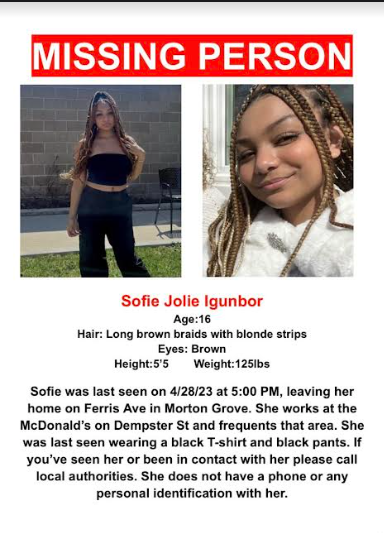 BREAKING NEWS: Niles West Junior Missing; Morton Grove Police Confirm Investigation
May 2, 2023
Niles West junior Sofie Jolie Igunbor has been reported missing, and the Morton Grove Police Department confirmed an open investigation on her disappearance. A poster circulating around school and on social media indicates that Igunbor was last seen on April 28, 2023 in the Morton Grove area around 4 p.m. wearing a black t-shirt and black pants. The 16 year old is described as 5'5″ and 125 lbs. She has brown eyes and brown braids with blond highlights.
The Niles West community is encouraged to immediately report any information on Igunbor or her whereabouts to the Morton Grove Police Department at (847) 470-5200. Students or staff with information can also contact School Resource Officer Nick Larson.
In a Tuesday morning email to staff, Assistant Principal of Student Services Dr. Antwan Babakhani noted that the school received word of her disappearance the evening of Sunday, April 30. Students impacted by Sofie's disappearance are encouraged to reach out to student services.