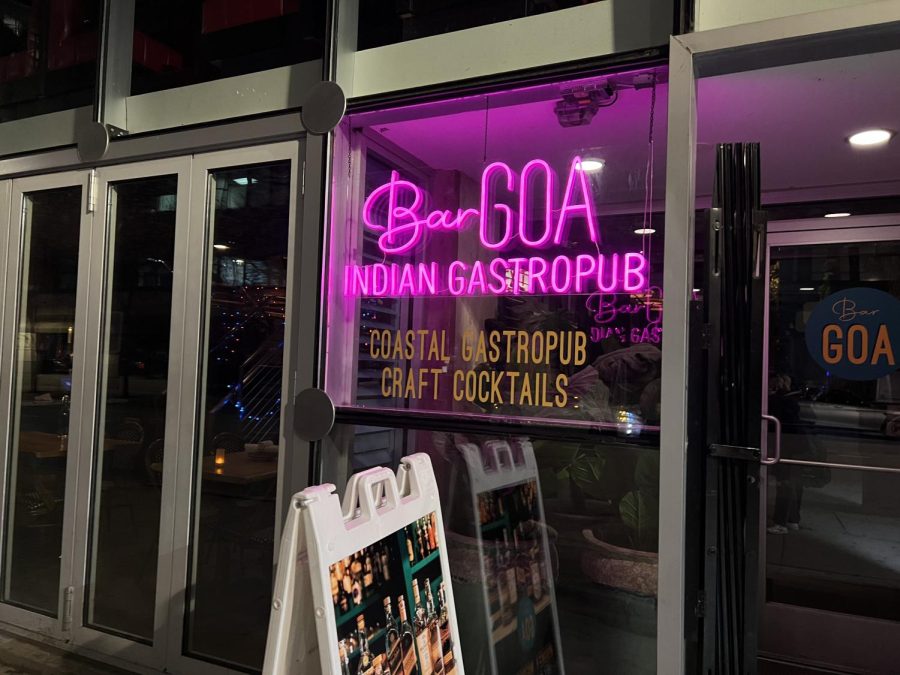 Bar Goa: Upscale Indian Restaurant Downtown Chicago
May 19, 2023
Bar Goa is a South Indian Restaurant and Cocktail bar located on Hubbard Street in River North, Chicago. This restaurant shows an eclectic representation of Goa, a state of India on the Southwest coast known for its beautiful beaches and tropical weather.
The dark nighttime ambiance, pop and Bhangada music align with the party culture in Goa and the tropical decorations with bright colors help set the scene. Goa's Portuguese influence is reflected in the cuisine and boho decorations in the restaurant.
I started with the Ginger Flower Mocktail which had hibiscus, ginger, orange, and lime flavors. The light pink drink is decorated beautifully with a flower garnish on top. The drink has a gentle fizziness, with tarte and sweet flavors, and floral undertones.
The must-try featured appetizer at Bar Goa is the Goan Krazy Sampler. Butter chicken sliders topped with habanero lemon aioli, arugula, pickled onions, fried onions and xacuti wings are served with peri-peri fries and echeado aioli. The chicken breast in the butter chicken was tender and juicy and the seasoning on the fries added a unique twist.
The Saffron Cheesecake was by far the best cheesecake I've ever tried. This white chocolate and saffron cheesecake is made with Ladoo, saffron and cardamom ganache, and raspberry compote, and is topped with a pistachio crumble. The chef's unique twist on this traditional American dish added the perfect touch of saffron. In most Indian desserts, the saffron flavor is usually very light due to the expense of the spice. However, in this cheesecake, the flavor was deliciously prominent.
The creator of all these unique fusion dishes is Indian Chef Bobby Geetha, whose multitude of qualifications includes 16 years of managerial experience in 5-star hotel kitchens. He is also the author of five different fine-dining Indian cookbooks and is the founder of Finediningindian.com. Among Geetha's many impressive awards, he was a quarterfinalist on BBC's Master Chef UK Professionals.
The staff and especially the manager Kim Seang were very knowledgeable about Indian cuisine and were very adept at providing recommendations and descriptions of the menu which made my experience there very positive. I will definitely be returning to Bar Goa with my friends and family in the future, and I am excited to try all the other dishes I didn't have a chance to try. If you have never tried Indian food or Goan cuisine in particular, you should definitely give this restaurant a try.