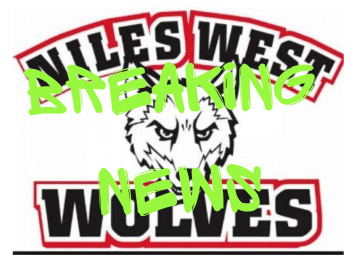 BREAKING NEWS: School Year Ends with Multiple Instances of Vandalism
May 19, 2023
A series of incidents of vandalism occurred around Niles West on Thursday, May, 18. During a 6th period gym class, the shower area in the boys locker room was defaced with a spray-painted image of male genitalia and a message directed toward a physical welfare teacher. A small fire was also set in a boys bathroom.
Assistant Principal of Student Services Dr. Antwan Babakhani confirmed that the deans, director of safety and security David Young and administration are investigating both incidents. The investigations are ongoing.
Consequences may include suspensions and fines. Dean Tim Dykes emailed the student body on Thursday afternoon, indicating that seniors who violate "the expectations clearly outlined in the student handbook" may not be permitted to walk the stage at graduation. Consequences are determined by the depth or severity of the offense.
The consequences of these incidents of vandalism could extend beyond Niles West and involve law enforcement.
"In the eyes of the law, [students burned] something in the school. That's illegal. We cannot do that. It's not just consequences on the table, there are legal implications. This is something we take very seriously, and it is not ok. If we find out all the details, and if we find out intent, motive, [and] all those things, our school resource officer will be involved as well," Babkahani said.
Following the events on Thursday, administrators and security will be increased around the hallways on all three floors.
"Toward the end of the school year, our seniors get excited, our seniors get squirrely, and we just need to contain what they are doing to manageable things," Babakhani said. "This is unfortunately not [limited to] Niles West, this is the atmosphere of high schools, typically. This is what happens at the end of the year."