The Alumni Blog: 'Too Cool for School' is So 2004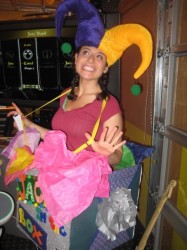 When I was in high school we used AIM instead of Facebook. We were limited to the 27 pictures on a disposable camera. When we wanted new music to play on our Discman, we begged a friend who would spend the 45 minutes it took to download a song from Napster to burn a CD. And I can't go without mentioning Brittney Spears, who was at the top of her game (Pre K-Fed, shaved head, and all).*
Needless to say, a lot has changed since I roamed the halls of Niles West. Luckily, my television preferences haven't. Ten years later I am still obsessed with MTV (yes, MTV played music videos back then) so I'd like to think I couldn't be that out of touch with your reality (that is if kids in high school are still watching MTV). The Hard Times of RJ Berger, My Life as Liz, Made, Real World—I watch them all. Religiously. Re-run after Re-run. Kind of a sickness. Don't judge me.
These aren't your average reality TV shows. Besides being entertaining, they have something else in common: They're Uncool. These shows redefine what it means to be cool. Wait, let me rephrase—what it means to be un-cool. No longer is being cool, well, cool. It's all about storytelling—how interesting, unique, different, is the narrative of your life compared to the person sitting next to you?
Why is this important? For one, I would have enjoyed high school a lot more if I knew the benefits of being uncool and maybe by sharing my uncool perspective you might decide to wear the shirt that's sitting in the back of your closet without worrying if someone is going to like it. Maybe you'll decide to join the video game club even if you don't know anyone. Or hang out with kids you typically don't eat lunch with. If I had spent less time judging, I would have spent more time doing and would have much better stories to share about my Niles West Days.
In the grown-up world you can always tell who hasn't figured out their uncoolness. They're the people at work who are "too cool" to dress up for Halloween. They're the people who don't share ideas in a meeting because they think someone will reject them. They're the same people who gossip about the girl who did have the guts to share an idea (which received praise).
These also the people who don't get noticed. While they were too busy judging, they missed out on interesting experiences and left with uninteresting stories to tell, or worse, none at all.
Uncool doesn't mean you need to go out of your way to "be different" or avoid mainstream at all costs. It doesn't mean you need to reject brand names and refuse to download pop music (I will lose my job in advertising if you do this). Uncool people enjoy life like no one else is watching. So if Justin Bieber is your music of choice, put your blinders on to the cool world, blast your iPod, rock out, and enjoy the ways of the uncool.
For most, getting comfortable in your uncool skin doesn't happen until after your series of "first days." Your first day of college, first day of living away from your parents, first day of class, first day of work. First. First. First.
(If you thought figuring out who to eat lunch with on your first day of work as a grown-up was easier than high school, let me be the first to tell you it's not.)
It isn't until you are forced to embrace awkward situations, the unknown, the uncomfortable can you then figure out how absolutely uncool you truly are. So bite the bullet, put on your big-girl underpants (if you're a dude, it doesn't get more awkward than that), and make today the first day of a story no one else can write but you.
* Thank you to all my friends on Facebook who jogged my aging memory and reminded me just how much has actually changed since 2004.
Lauren's Bio
Graduated from Depaul: 2008, BA in communications
Currently works as a Brand Strategist at Young & Rubicam
Favorite part of Niles West: Lauer 🙂