Hungry Like the Wolf: The Fluffiest Cinnamon Rolls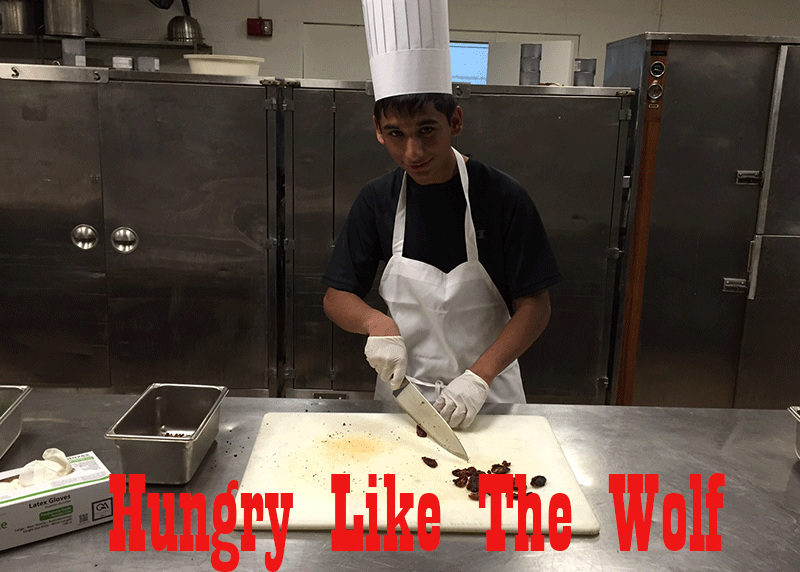 Cinnamon rolls: we all love them especially if they are from Cinnabon and glazed with cream cheese frosting, but just what is it about a cinnamon roll that makes it 'the' cinnamon roll? What specific thing do all perfect and delicious rolls share? Texture. Now, I don't know about you, but to me, there is nothing better than a cinnamon roll that is light and fluffy amongst other things. I mean the type of cinnamon roll that you press down with you fork and it pops back up.
Just the other day I was making cinnamon rolls for a special occasion, but I didn't want a roll that is stuffy and hard to swallow. I wanted something gooey, squishy, and soft. And I found just the technique and recipe that never fails. As I discovered, to make a cinnamon roll really fluffy and soft, you have to proof it, which basically means you have to give it a second rise.
I've made cinnamon rolls before, and most recipes I encounter usually instruct you to make the dough, let it sit in a warm place covered for 1 or 2 hours to allow it to rise, and then to roll it out, coat it with cinnamon, and bake it, but with this technique, your cinnamon buns will turn out stuffy and you'll feel like you have a mouth full of rough bread when you're chewing it.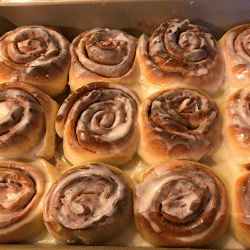 When you allow your prepared cinnamon rolls to rise for an additional time before popping them into the oven, the activated yeast in the dough will released carbon dioxide and make the dough poofy. Once the rolls rise and you put them into the oven without punching down on them, all that extra volume in the rolls turn into a light and airy texture after baking.
Just keep in mind that cinnamon rolls, like any other bread, take a while — make sure to be patient and have time on your hands while the rolls are proofing. Read a book in the meantime or do something productive while you wait.
Yields 12 rolls
Fluffy Cinnamon Rolls    
1 Tablespoon dry active yeast
1/2 cup lukewarm warm water
1/3 cup + 1 tsp sugar
1/2 cup warmed milk
1/3 cup melted unsalted butter
1/2 tsp salt
1 egg; slightly beaten
3 3/4 cup all purpose flour
1/8 teaspoon cinnamon
Cinnamon filling
1/2 cup sugar
5 Tablespoons brown sugar
2 tsp cinnamon
1/2 stick (1/4 cup) softened butter
Cream Cheese Glazing
1 cup powdered sugar
1 Tablespoon softened butter
1 tablespoon cream cheese
1/2 tsp vanilla
2-3 tablespoons hot water
In a measuring cup filled with lukewarm water, add the yeast and 1 tsp of sugar. Stir and let this cup sit aside for 3 minutes or until foamy. You are allowing the yeast to activate because warm water wakes it up while the yeast feeds on sugar.
In a bowl of a stand mixer fitted with a paddle attachment, mix the melted butter, warmed milk, sugar, salt, the egg, and the activated yeast mixture on a speed of 2 until combined.
Add the cinnamon to the dough (I like adding just a lit bit inside the dough as well as when it's rolled) along with half of the flour. Switch to a dough hook attachment and beat until smooth but very sticky.
Add the remaining flour, set the dough hook speed to 2 and allow your stand mixer to knead the dough until it's stiff and slightly sticky.
Inside the bowl itself or on a separately floured work surface, knead the dough until smooth, place in a oiled bowl, wrap with plastic wrap and allow to rise for 2 hours.
In a bowl mix all of the ingredients for the cinnamon filling except the softened butter. Butter/grease a 9 by 13 inch pan.
On a floured surface, roll out the cinnamon dough into a 15 by 20 inch flat rectangle. Using a rubber spatula or your hands, spread the butter over the dough. Sprinkle the cinnamon filling over the dough leaving 2 Tablespoons of the filling.
Starting at the bottom of your rolled out dough, roll up the dough tightly all the way to the top until you have a log of dough.
Using a sharp knife, cut the log into 12 separate rolls each equally sized. Sprinkle remaining cinnamon filling over the inside of the buttered pan. Place each of the rolls into the buttered pan, swirl side up.
Cover the pan with plastic wrap and let assembled rolls proof for an hour in a warm environment. Meanwhile preheat your oven to 350 degrees.
Bake proofed rolls for 20-25 minutes or until golden brown.
Whip all of the glazing ingredients in a bowl adding one tablespoon of warm water at a time until you have a thick spreading consistency (not as thick as frosting!) Spread over warm rolls and serve.
About the Writer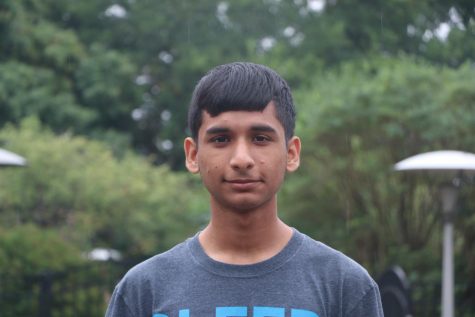 Zubair Muhammad, Staff writer/blogger
Zubair is a senior and this is his third year on the Niles West News staff as a reporter and food columnist. He likes cooking and being a part of many...