NWN: Keeping You Posted on All Hot Things This Summer
By Ivana Kosir
June 7, 2012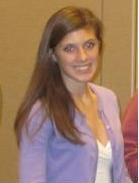 Here we are, Niles West- the final stretch of the 2011-2012 school year. With less than a week left of school, the only thing on our minds is summer. After a year filled with mountains of homework, projects, and tests, it is time to kick back, relax, and enjoy all summer has to offer us.
As much as we'd like to forget about school or anything related to Niles West this summer, don't forget to stop by the NWN website once in a while. Throughout the summer we will be updating the award-winning site with content like concert reviews and summer blogs.
With that in mind, if you experience anything fun and exciting this summer, let us know! Shoot us an email containing a picture and short caption at
[email protected]
, and we'll post it to the site. Likewise, if you have an idea or want us to cover something, bring it to our attention with our
drop box
.
Starting next year, I will be replacing senior graduate Colene Gibson as editor-in-chief. As editor-in-chief, it is my goal, along with the rest of the NWN staff, to deliver the best stories to the Niles West network. So this summer, while you're at the beach, shopping, or just logging into Facebook, remember to check out the NWN.
Most importantly, have a good summer, Niles West!