Math Team Prepares to Represent West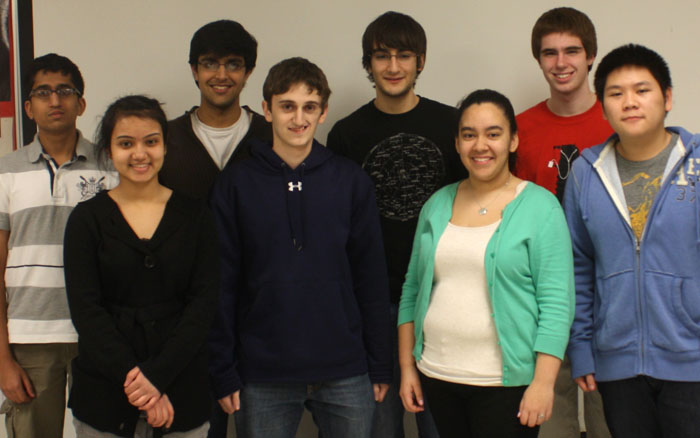 By Dan Poskus
January 9, 2013
Niles West News had a chance to sit down with math teacher and  math team coach Robert Nortillo to ask him about the rules of math team and how its season has been going so far.
NWN: How is the math team doing so far this season?
Nortillo: As a team our performance is below where we would like it to be, but we have had some excellent individual performances.
NWN: Who are your toughest competitors?
Nortillo: In the North Suburban Math League, Stevenson, Whitney Young, Naperville North, and IMSA are definitely the cream of the crop.
NWN:  What is math team? What do you guys do? How do you prepare?
Nortillo: We participate in competitive events sponsored by two different organizations. One is the North Suburban Math League. It is local here in Chicago; it's comprised of 55 high schools, mostly local, some from the city. Really any team from the area is welcome. So five times a year we will meet with other schools to compete doing mathematics. And there are trophies and plaques awarded at the end of the year. The other organization that sponsors events is the Illinois Counsel of Teachers Of Mathematics.  One of the meets they sponsor is in February and is kind of a regionally organized competition for all high schools in the entire state of Illinois. They are invited to go to a particular site and compete in mathematics. There are lots of different events that students compete in, so if your students do well in their events, they can qualify to go to the state meet at the University of Illinois later on in the spring.  We always qualify some of our kids, but sometimes we qualify all of our kids.
NWN: What are the competitions? How do you compete in math?
Nortillo: Well, basically, you show up, you sit down, they give you a bunch of problems, you try to work out the problems the best you can, then you turn in your answer sheet. They score them right or wrong, no partial credit. There are different ways to prepare for these kinds of competitions. There are different formats these problems are in. For instance, in the North Suburban Math League competitions, there's really only two types of events. In advance, we are told what the topics will be for the freshman, sophomores, juniors, and seniors, respectively.  So we have been spending a few weeks now working with  the various levels of students trying to get them to be experts in their topics.  Like for instance, the seniors' topic is something called diophantine equations, which is something most people have never heard of , so we have to get our kids up to speed on what that means and how to solve problems with them. When we show up to a competition next week, every senior is going to get five problems on a sheet of paper and they are going to get 30 minutes to try and solve them. At the end of the 30 minutes, they will turn in their papers and the answers are either right or wrong.
Most of our kids do that kind of stuff at the meet, but there is one kid who is called the oralist. Our oralist  competitor this year is Patrick Liscio, who is a senior. He is easily the top math student in the school. He also has a specific topic he has to prepare for. He has to prepare for his individual topic. When he shows up, he is presented with three questions on that topic and he has 10 minutes to try and solve them. Then he goes into a separate room where there are two judges and he has to orally present his solutions to the judges.So not only does he get graded on the correctness of his solutions, but also on the quality of his oral presentation.  That's the NSML, the ICTM is different. When we go to the first competition in February, the Regional event, there are lots of different kinds of competitions. One kind is when we send six freshmen into a room; they all get, individually, a piece of paper and they have 50 minutes to answer 50 questions the best they can. They are all working independently and turning in their own answer sheet. That's called the written event. Then there is something called the eight-person event, where we put four freshmen and four sophomores together on a team, they go into a room, they get a piece of paper with 20 questions on it, and they have 20 minutes to try and come up with all the answers, but they are all working together on a single answer sheet. We have to strategize how to divide and conquer this event.