Embil to Compete in Poetry Out Loud Regional Final Today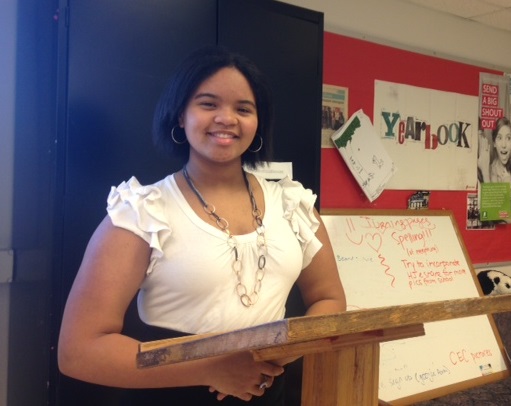 Hang on for a minute...we're trying to find some more stories you might like.
Sophomore Claire Embil was crowned champion of Niles West's school-wide poetry out loud competition and will compete in today's Regional Final at the Des Plaines Public Library.
Seventeen students will represent their schools in today's competition. The top two students will advance to Springfield's state final, scheduled for Friday, Mar. 13.
"I don't expect to move on to state but if I did it would be amazing," Embil said. "I am of course going to try my absolute best. I feel ready. I am extremely excited too."
English teacher Sally Graham, who helped judge and organize the competition, said she was proud of Embil.
"Claire was amazing, her delivery was strong and she was so moving. Her second poem made me tear up," she said.
Embil, who performed two poems — "The Bones of My Father" by Etheridge Knight and "Negative" by Kevin Young, said preparing for the event was easy.
"I picked my poem very late. Maybe a week or so before. I tend to do poems by black authors because I find connections with them. I spent one hour memorizing my first poem, 'The Bones Of My Father,'" she said. "After that I practiced it once a day and couple times for my English class. My second poem took me a half hour to memorize. That's the easy part, to be honest. The hard part is performing for the judges. That's more of a mental preparation. I just tell myself that I can do it. And then I just do. I don't have problems speaking in front of crowds."
 Click on the audio above to listen to Claire reciting her winning poem, "The Bones of My Father."
Alex Ehrenberg contributed to this article.