On the Green with Girls Golf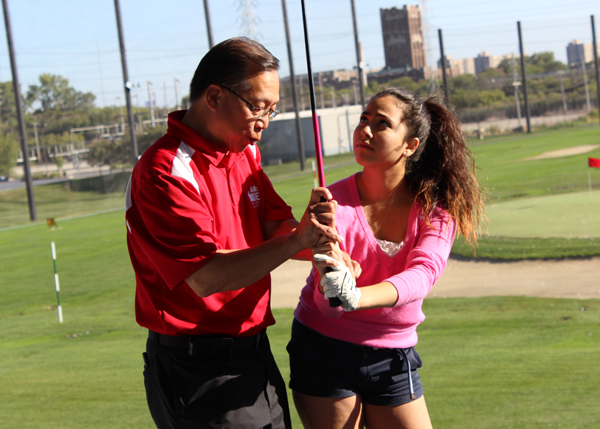 By Rand Jassar
September 30, 2013
Chatter and laughter fills the mini van as the girls' JV golf team get set to head to the Skokie Sports Park for their routinely practice.
The girls' golf team is newly reformed and consists of five members: Senior captain Susan Klaisubhan, sophomores Sara Dym, Katrina Nickell and Kristin Recinto, and freshman Venus Bahary.
As coach Rich Lee pulls up to the curb, the girls get out of the van quickly and grab their golf clubs from the trunk. They drag their feet along the pavement slugging their clubs on their backs. Once they reach their stations, the swinging begins.
"I like everything about golf. I don't know why people think it's boring. Maybe if you do it with friends it's a lot of fun!" Nickell said.
The girls are attentive. They tie their hair in ponytails, bend their knees and take time aiming their clubs. They swing and swing repeatedly trying to perfect their strokes.
"I don't know how many times we swing a day," Klaisubhan said, "200 at least."
Golf is not as easy as it may seem. Groans and sighs are often heard as the girls aim for a good shot. Whenever one of the girls is not doing well, the rest of the team is ready to critique and help her do better.
"We all really get along, support each other and try to have fun- we always share snacks, too!" Recinto said.
Most of the girls said they have been inspired to join the team due to previous exposure to golf.
Dym shares her experience with the sport.
"I've been doing golf since I was four," she said. "I'm also part of a country club -it's in the family."
Klaisubhan also says that her inspiration came from her family.
"My dad [inspired me]," she said. "He's really passionate about golf and motivated me to try out for the team."
Although most of the girls on the team have golfed before trying out for the team, Bahary had a hard time at the beginning of the season attempting to learn the rules and getting in the mind set of golf.
"Since I'm new to it, just learning everything- how to swing and the different rules- is difficult for me," she said " but I will definitely join again next year!"
After swinging for the who knows what time, the team decides to take a break. They grab their wallets and head to the nearest place that offers snacks. They talk about different topics and things going on in their lives as they munch on their chips and sip their pop. Once they regain their energy, they go back to swinging.
Since the season is coming to a halt, the girls are saddened yet anxious to see what is in the store for them next year.
"I'm going to miss the team and being together," Nickell said. "Some of our matches are 20-30 minutes away and it's fun when we're all together in that little van. I'm also going to miss Susan because she is graduating."
After a long day of hitting golf balls, coach Lee decides to gather up the girls in an attempt to play a game together before heading beak to school. He gives them challenges- swing the ball the farthest or the straightest- and they all chime in one at a time, including Lee.
At the playful game, they gather their belongings and walk out of the park to where the van is located. They stack their clubs' bags in the trunk and hurry inside the van. Once coach Lee begins accelerating, Nickell opens the radio and blast the volume up. Some of the girls sing along. After a long day of swinging they are ready to head home.