Rock and Roll Club: A Classic Experience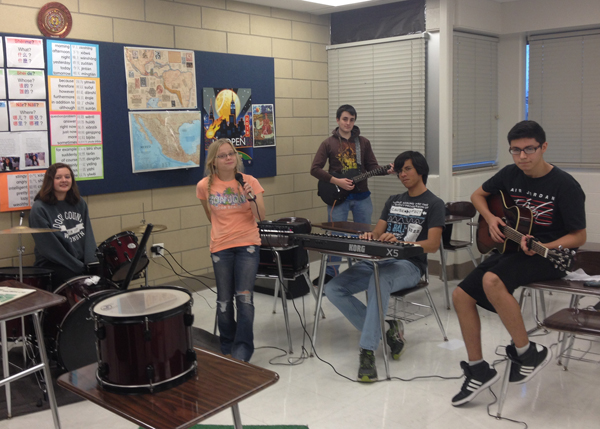 Every Wednesday after school you can find a wide variety of students walking their instruments over to Niles West's Rock and Roll Club. Typically split up between two classrooms, students break themselves up between the acoustic and electric rooms. The acoustic room has a more relaxed vibe as opposed to the hard rock of the the electric room. Each has their own characteristics that appeals to every student in that room.
The goal of Rock and Roll Club is to provide a sort of community and outlet for Niles West's own Rock n' Rollers. Senior Paul Kundzicz, the club's president, commented on the purpose behind their club.
"The goal behind the club is, at it's core, to simply unite Rock and Roll players and enthusiasts to play, talk about, discuss, and perform rock music. In doing this, the Rock and Roll club fulfills another greater goal that is to give students today the opportunity the classic experience of being in a high school rock band," he said.
Unlike in previous years, where all the members were in one classroom together, this year they've had to split themselves up due to all the new members that have accumulated. The club was initially started by Spanish teacher David Malatesta, but later on was passed down to the current sponsor and Spanish teacher Steven Lander. The club is now going into its seventh year and has made several improvements along the way.
"We're in our seventh year and in that time we've purchased a drum set and a PA system so we're able to put songs together," Lander explained.
Members are able to bring new songs to the table, teach one another new techniques, and bring new music to the table. The club has undoubtedly become a welcoming outlet for many.
"I joined because I like to play music, and I don't know a lot of people who also play music, so it's good to know people who enjoy it as well," freshman Peter Conenna said.
Rock and Roll club has become a community in its own throughout the years.
"Personally, the Rock and Roll club has influenced my high school career by helping me become more organized and reliable to others. Being a part of a band that depends on every one of its members for it's success sort of forced me to be more dependable to others," Kundzicz added.
Any and all interested students are welcome to join. Rock and Roll club meets every Wednesday at 3:30 in room 1605.
Ajete Kolari contributed to this article.