2015 Varsity Football Preview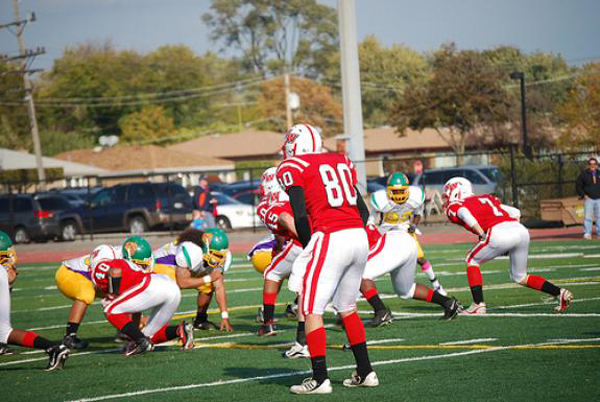 [youtube]https://youtu.be/a2Nj48w-FKE[/youtube]
The Niles West News sat down with head football coach Scott Baum to talk about the upcoming football season. We are all looking forward to a year with more wins, a new offense, and more records waiting to be shattered. The junior heavy Wolves roster may be young, but is nonetheless looking promising.
NWN: How's the team looking to be this season?
Baum: We are excited about this season, and still have a lot of questions with positions we have to fill. This upcoming week is going to be important as far as depth goes and people stepping up into key positions. Our goal again is to make the playoffs, and we have the returning players we need to make that happen.
NWN: What is the team doing this season to prepare?
Baum: We finished our summer program and off-season lifting, and with school starting so early this school year, the boys have been coming in for double practices. I know it's long for the boys, but in the long run I think it will pay off.
NWN: What's the quarterback situation looking like this year?
Baum: We will see how things play out and we are just excited to get our best 11 out on the field. Whoever we put out there is going to be prepared and ready to play. We will be a threat to our opponent no matter who is out on the field. We have two strong quarterbacks who can switch in and out. Our two quarterbacks are juniors Matt Galanopoulos and Johnny Pabst.
NWN: Who are going to be some key players on this year's team?
Baum: On the line this year we've got big junior Josh Weichel. Defensively, we are looking for seniors DJ Box, Mario Herrera and Yaniv Shields to make some big things happen. Offensively, our weapons are going to be junior Matt Metz as a receiver and Shields contributing offensively as well.
It's that time of year again, and the Wolves are looking forward to playing their challenging schedule this year. Come out and support the Wolves at their season opener in Buffalo Grove tonight. The Wolves are hungry for a first win and support on the road always helps make it easier.