West Reacts to Trump Victory
Republican Donald Trump has won the 2016 presidential election, triumphing over opponent Hillary Clinton, despite polls leading up to the race that predicted a narrow Clinton victory.
Trump finished the race with 279 electoral votes, nine above the required 270, while Clinton ended with 218, according to the New York Times. However, Trump is currently behind on the popular vote; Clinton has earned 200,000 more individual votes than Trump. His win instead stems from his ability to clinch key swing states, notably Florida, Ohio, and Pennsylvania, all with incredibly close margins between the candidates (1 percent in both Florida and Pennsylvania). As a Trump victory became more and more likely, global stock market values plummeted in response to his perceived lack of predictability.
Coming off the heels of Niles West's school-wide mock election, where 100 percent of the electoral college and roughly 60 percent of the nearly 500-strong popular vote went to Clinton, many Niles West students are dissatisfied with Trump's surprising win.
"The outcome of Clinton winning took me by surprise as my prediction was the opposite. I am very happy that we had such a great turn out for a 24 hour poll. Clinton won by a landslide. I sincerely appreciate you all exercising your right to vote," said mock-election organizer senior Sokol Delisi.
According to Delisi, Clinton won with 264 votes in Niles West's mock election. Donald Trump had 106, Gary Johnson 28, Jill Stein 25, and 34 votes going to write-in nominee.
A large number of students are incredibly shocked that the election could have ended this way.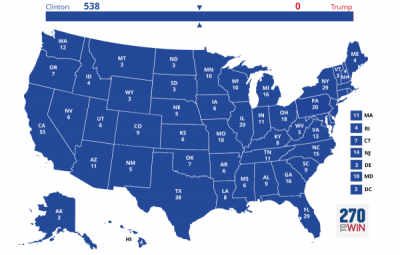 "It's astounding that this silent majority was real," junior Nate Glancy said. "A real amount of people wanted this, and that's the most surprising. Out nation is officially acknowledging the modern version of segregation."
"I was pretty surprised. I guess I underestimated Trump's supporters. I think we might regress as a country, especially with the Supreme Court, and a Republican government. This morning, I was just very surprised and pretty sad," senior Desmond O'Shaughnessy said.
Many students expressed outrage over the results and were quick to identify perceived problems with the outcome.
"I'm so glad America's true colors are shining through with a racist, homophobic sexual predator as the head of our nation," junior Jenni Balliu remarked sarcastically, referencing the multiple accusations of sexual assault levied against Trump.
"If you live in a swing state and voted for a third part candidate when Clinton would have been your second choice, then it's your fault that Trump won," junior Nasim Salehitezangi said. In multiple swing states, votes to third party candidates that would have otherwise gone to Clinton shifted the balance in Trump's favor.
Other students were incredibly excited, having supported Trump from the beginning.
"I'm excited to make America great again," senior David Apple said. "I am satisfied with his win and I believe that this is going to be an amazing victory for America."
"I'm ecstatic; I have backed Trump since the beginning, so this is huge," senior Jake Peiser said. "Ever since he got the nomination, I knew he would win."
Ultimately, this shocking election upset has done nothing to bring the nation together; instead, citizens and students alike continue to remain fiercely divided. Trump will take office on January 20, 2017.
Contributions made by Isabella Gil, Divitya Vakil, and Lisa Jahjah.