The True Meaning of School Spirit
By Seve Loubriel
September 19, 2010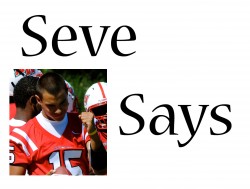 Hey my name is Seve Loubriel. For some odd reason, I was picked to write a column for this newspaper, and I thought to myself, "What kind of ridiculous idea is that? I can't write!" But I guess I'll give it a shot.
For those of you who don't know me, I've played football and ran track basically my whole high school career. I'm not that fast, but I try. This past year I was part of that track and field 4 x1 relay team that won the state championship. For some reason that was kind of a big deal; I think because we were the first track champions in Niles West history or something like that.
Anyways, my true passion at West, sports-wise, is football. I've played football for your wolves since I was a freshman. I do a little bit of everything: I throw the ball, run it sometimes, make a few tackles, miss blocks, and I'll return a kick or two. But this year, Coach Baum got this wild idea and is playing me as quarterback.
Being a student athlete, or should I say football player, here at Niles West isn't an easy thing. Imagine walking down the halls and hearing people say, "Why even practice? You're gonna lose anyways!" or "What happened last Friday?" That's not a good feeling. But the thing that gets me is, why do you put us down?
Sure we haven't been successful these past couple years, but that doesn't stop us as a football program to try and get better each and every day. All you see is Friday Nights. And to tell you the truth, there's a lot more to football than Friday Nights. You don't see all the hard work and sacrifices we make as a team to succeed: All the running and lifting during the off season. The four hours-a-day-five-days-a-week-for-seven-weeks summer camp we went through. Or the two-a-days playing football for nine hours a day. You guys aren't in the film room studying our opponents. Bottom line is, if you saw what the coaches and players did to get where we are today, you might have a greater appreciation for what we do.
And that's basically what my blog is all about: giving you the inside look into the life of a student athlete. So, read my blog and maybe you won't be so harsh on us athletes.
School Spirit is about being behind your team through the good and the bad. We're your football team. Even though your school spirit sucks, we still play for you. We play to prove you wrong. We play to bring Niles West back to its winning ways.