Protesters Denounce Hate Speech and Racism at West
Students walked out of their 8th-period classes on Friday, Feb 18, joining parents and members of local organizations in the effort to denounce racism at Niles West. Located primarily in the visitors parking lot, this protest responded to hate speech overheard as students exited the building during the mask mandate walkout last week. Some students participating in the walkout reportedly used the n-word and made monkey noises toward a group of Black students.
"During the walkout, students in the hallway heard the n-word directed toward them. Students and adults hear the n-word regularly in school, along with other racial slurs and derogatory comments about religion, ethnicity, sexual orientation and other identity groups at school and on social media," Niles West Principal Dr. Karen Ritter wrote in a Feb. 13 email, condemning such language. Superintendent Dr. Steven Isoye also issued a statement on the use of hate speech in the district.
Deans worked to fully investigate the incident, but individual student consequences are protected under the Family Educational Rights and Privacy Act (FERPA). 
District 219 board member Jill Manrique voiced criticism of the district and called for systemic change.
"We've seen [district leaders] say 'Black Lives Matter,' we've seen a lot of performative measures but it's time for the school board, it's time for the administration, it's time for everyone to actually stand up. [To show] Black people in this community that they actually do care, and that they're actually ready to make systematic change," Manrique said. 
Niles West's Black Student Union organized the protest with the support of several sponsors including the Abolition Coalition of Skokie, the NAACP Northshore, and the Skokie Schools Equity Collaborative.
Signs reading "Black Lives Matter," "Black Is Beautiful," and "Black Voices Matter" expressed protestors' ongoing frustration with anti-blackness in District 219 and at Niles West specifically. After organizers played the Black National Anthem, "Lift Every Voice and Sing" over a speaker, students shared personal experiences with racism in school.
Black Student Union president, senior Londyn LaVallias, began the student speeches.
"We gather here today to denounce the racist attacks that recently took place at Niles West and continue to happen throughout District 219. I was standing in the same position in 2020 talking about racial discrimination, and not even 2 years later, I'm standing here now in the same position. I want to thank my peers for stepping up for how they feel and encourage all students in District 219 to not accept racism of any form. Niles North students also attended to show their support." 
Senior Nina Cajuste recited a poem dedicated to the Black girls of Niles West, and other students shared concerns about safety and the environment at West.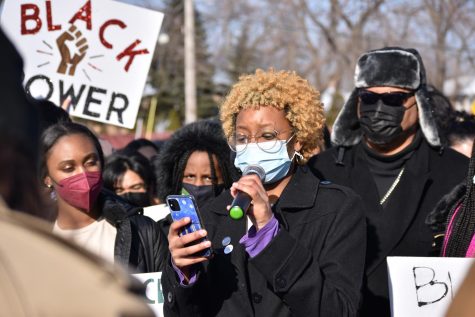 "The administration has failed to do its job in protecting and defending its black students and the other students of color…The school claims that hate has no home here but constantly allows hate to run rampant around the school," junior Adam Spillman said in their speech.
Junior Briyanna Manzaneres also spoke out about the discrimination they have faced at Niles West.
"There is one singular place where I should feel safe at all times. And I don't think I've ever really felt safe at Niles West," Manzaneres said. "I am an individual within many minority groups so yes, I have been hurt in this space because of my queerness, and yes, I have been hurt because I am non-binary. But if I were to take all of those experiences and combine them, they wouldn't even come close to what it feels like to be a Black person in this community."
Many of those in attendance felt the protest, though on a smaller scale, was one step closer to a changed future.
"I think that I came out here to say something about racism to be a part of a bigger movement to care about what these people care about. Personally, racism won't stop at hating black people. It won't stop at hating other people of color, and it will eventually hit my group of people. Me being [a mix of] of two different races, it's weird, at the end of the day we're all different people but it's love that we all share in common," junior Pedro Illas said.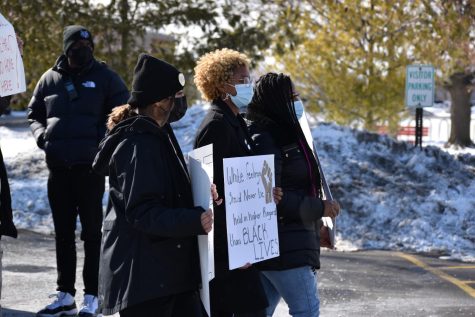 Sophomore Afra Abdul said, "I think it's completely wrong how people are treated by other people who don't believe in racial justice. I haven't personally experienced it in school, but I have seen stuff in the hallways, but nothing too extreme." 
"More people shows more power and so I thought it was a good idea to come out," sophomore Abigail Lopez said.
Even though over 200 people attended the protest, other students felt uncertain if it would prompt the district would take further action to support minorities. Sophomore Summer De La Cruz emphasized a need for increased communication between students and staff.
"I don't know what is actually going to come out of this protest because more likely the thing that is going to happen is that it's gonna be the exact same. So my question is, what is going to change by being out here?" De La Cruz said.  "I think that the most effective way to change anything at this school at least is to have a group of students who are talking directly with the staff, other than just doing protests, and I think that's for anything you want to change at this school, not just anti-racism." sophomore Summer De La Cruz said.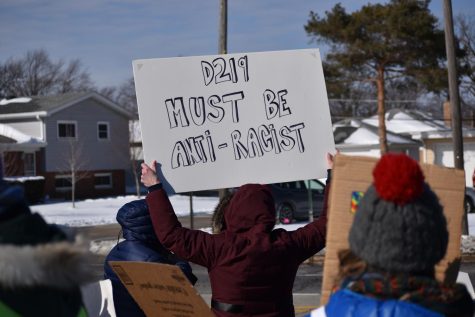 Students from Niles North also attended to express solidarity with West.
"[I came] to show my support for the students that go to West, to show that it's wrong and they shouldn't have to deal with something like this at a place where they should feel safe and accepted and welcomed," Niles North student Jade Tsales said. 
"It's just wrong for anyone to feel hated in a community where they go every day and to feel that kind of opposition, that's not right. We need justice for the people who were hurt," Niles North student Matthew Smalls said. 
Some teachers at West also stood in solidarity with students. Special education teacher Deitrick Mitchell expressed his hope for change at Niles West.
"I hope everyone walks away knowing that this is a serious issue that requires our attention. And I hope that there are actions taken that are visible and are impactful that will lead to change, be it policy, be it setting up additional structures within the building to support students who have been discriminated against. So, something needs to happen that not only satisfies people in the moment but also will resolve in long term change," Mitchell said. 
Lasting an hour and a half, the protest ended around 3 pm, and most students returned to their 9th-period classes. Students participating received unexcused absences for 8th and 9th period. Another walkout will be held on Wednesday, Feb. 23.