A Dream Going Strong for 50 Years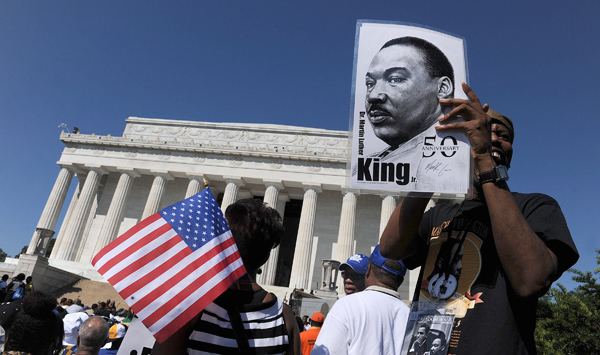 By Gabrielle Abesamis
August 28, 2013

Fifty years ago today, about 300,000 people in this country were dreaming, daring, and doing all that they could so that some day, the United States of America would have racial, religious, and labor equality and justice . These very same group of people exercised their freedom of speech, religion, petition, assembly, and press more than they ever did in their lives because today is the very same day that one African American man dared to make a speech about his dreams in front of Washington Washington Monument.
That man dreamed that one day people would be judged by character, not their race. He dreamed that children of all races would join hands and work together. He dreamed for freedom and equality among the people of American Society.
He was Martin Luther King.
Senior Philippe Delma said today is a day to appreciate what Dr. King has done for the country.
"The anniversary's purpose is to commemorate a fact that one influential man was able to change the vision of a whole nation over time, the only tragedy was that he was unable to witness it," Delma said. "We're living Martin Luther King's dream the way he envisioned for all of us to, and his dream is forever a lasting part on America for years to come."
This summer, I was selected to be the Illinois representative to the Al Neuharth Free Spirit journalism conference in Washington D.C. in which I, along with 50 other students ( one student representing one of the 50 states and also the District of Columbia), worked with the faculty of the Newseum, the Freedom Forum,  The House of Representatives, journalists from CNN, USA TODAY, ABC, NBC, Time Magazine, PBS, and the Washington Post,  and Dr. Thomas Marshburn of NASA.

The program's mottos were to appreciate the five freedoms from the first amendment and "Dream. Dare. Do." and indeed, that was what the people who marched to the front of the Washington Monument did.
Without Martin Luther King and the people who fought for what they believed in 50 years ago today, there might not be such an American drive to dream, dare, and do. The press might be limited, people would hesitate to make an assembly and petition, Dr. Thomas Marshburn might not have even dreamed or dare to go to space. More people would have a problem speaking their mind or accepting what they believe in.
U.S. History and Government teacher Joseph Edwards understands the significance of the freedoms.
"Because of our freedoms we are able to work toward correcting some of the problems we have made in the past. African Americans were mistreated and it allows us to correct those wrongs, which I think is unique," he said.
Although there has been improvement with racial equality and justice, Literacy Center Coordinator John Przekota said he thinks the nation can still do better.
" I think [today is] a great opportunity to look back at that dream and realize that people haven't made it there yet," he said.
Students concur.
"It is my belief that much of King's dream has been fulfilled. The world we live in today is simply nowhere near that of the one just fifty years ago; and I have great admiration for King's role in making that possible. But the world is still far from ideal," senior Timothy Chan said.
"There is still racism and discrimination, but it wasn't as bad as it was before. Thank you, Martin Luther king, for showing us that fighting for what you believe in is always worth it," senior Justirini Corpus said.
"I'm happy that equality has come such a long way and I'm excited to see how much further equality goes in the next few decades," senior Lila Gilbert said.
So, I urge you all today to dream, dare, and do, and exercise the five freedoms. I urge you to stand up to injustices and make Dr. Martin Luther King proud.