D219 Gets Ready to Dance!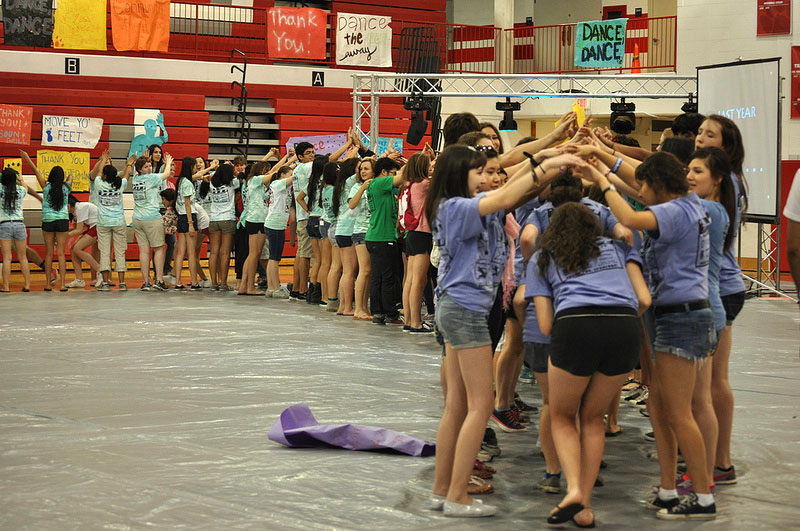 By Mara Shapiro
May 21, 2013
District 219's Dance Marathon will be held Saturday, May 25 at Niles North from 5 p.m. to 12 a.m. Sunday, May 26.
Students who did not raise the required amount of money, or students who are not officially a part of Dance Marathon, can pay hourly at the dance. The price is $7 an hour leading up to 11 p.m. when the power hour price becomes $11 for 11 p.m. until 12 a.m.
Dance Marathon sponsor Jessica Pritzker feels that students should attend even if they are not officially a part of Dance Marathon because of the impact the dance has on the charity.
"Everyone who wants to help families in need, or make a difference in the world should attend! It's a great event full of fun, that makes a huge difference to others each year by donating to charities.  DM literally changes the lives of people that benefit from these charities, and to see the looks on the charities faces when we announce totals at the end of the night is something that imprints upon you as a person and inspires you to do more for others," Pritzker said.
This year's charity is Rustic Falls Nature Camp, a facility that offers nature programs for at risk youth, or children with illness or disabilities. West executives had to raise $350 each, morale captains  had to raise $150 each, and dancers had to raise $100 each in order to get into the dance for free, eat and drink for free,  and receive a free T-shirt.
Senior executive Lyba Zia agrees with Pritzker that students should come and support Rustic Falls at the dance.
"Rustic Falls Nature Camp is local and dear to many students at West and North. The Lentz family has created an amazing camp to give children in need the chance to recuperate through nature. We have had numerous volunteer days at the camp, and the response from Dancers and Morale Captains was amazing. This charity truly deserves all the funds and awareness that District 219 has been raising, and I can't wait for all of our efforts to come together on May 25," Zia said.
Senior executive Basia Gawin is proud of her dedication to Dance Marathon this year.
"May 25 is our reward for a whole year of hard work. I am sad that this is my last year being a part of Niles West DM. I have greatly enjoyed working with all the amazing people in this organization. DM will be the first club I join in college and will absolutely come back to Niles West's DM [in the future]," Gawin said.
Zia agrees with Gawin.
"I love Dance Marathon! I love the entire structure of the organization. As an exec, I have so much say in what happens and am part of the entire process from selecting the charity to helping plan the night of DM event. As an organization, Dance Marathon has done so much for its beneficiaries, but as a community, it has left me empowered. I can't wait to participate in Dance Marathon at the college level," Zia said.
Pritzker believes that this year's Dance Marathon volunteers have made a large impact.
"I feel as though the groups really have made an effort to volunteer more this year and we have brought many individuals that aren't even in DM up to Rustic Falls to help them build their camp," Prtizker said.  " Watching the Rustic Falls camp really transform over the course of a year in small part due to our help has been really wonderful."