Fantasy Football Frenzy: NWN's Inside Scoop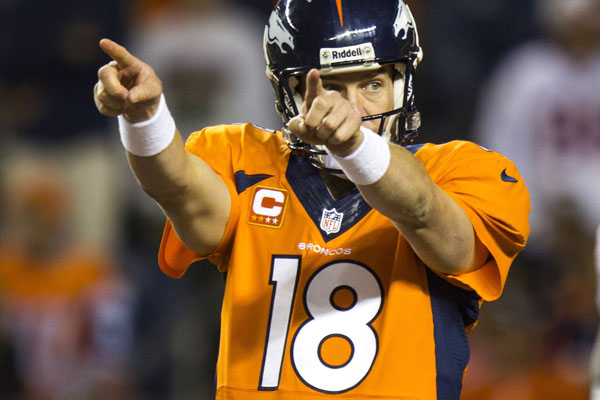 By Danny Thompson
September 27, 2013
Nobody can call themselves a football fan if they don't play fantasy. NWN staffers and fantasy gurus Danny Thompson and George Panoutsos sat down to give some insight on who to pick up, who to drop and how to have the most successful fantasy team. Look no further to learn how to gain bragging rights in your fantasy leagues!
Who is your go to player that gets you the most point this year?
George: Peyton Manning is my go to guy this season because he has been racking in a solid 25 points each game. He has a great team and an outstanding O line backing him up, so the Broncos will have a bright season, as well as Peyton Manning.
Danny: My number one guy this season has been Drew Brees.  While not putting up fantasy numbers quite as high as Peyton Manning, Brees is a guy who will average a solid 20+ points week in and week out.  When Brees has a multiple interception game it's usually because the Saints are putting the ball in the air a lot, which gives him the opportunity to gain more yards.
Who has the best defense right now? Do you expect that to remain so all season?
George: The defense to have are the Bears and Chiefs. The Bears defense, led by veterans Lance Briggs, Charles 'Peanut Tillman' and Julius Peppers, are destined to perform strongly. Out of the blue the Chiefs defense has been coming up big and are currently ranked the first defense. The Chiefs defense would be a tremendous pick up if no one in your league currently have them. They are still not receiving full recognition, so you should pick up the Chiefs defense and will rack in at least ten points a game.
Danny: The top NFL defense right now definitely belongs to the Kansas City Chiefs, and the best part is that they're only owned in 42% of leagues.  They only give up an average of 11.3 points per game and have gotten at least two takeaways in each of their first three games.  With two of their next three coming against the 0-3 Giants and the 1-2 Raiders, you need the Chiefs on your team.
Who are some fantasy 'sleepers' — guys that fly under the radar but can still rack up points?
George: Some sleepers to pick up are running back Trent Richardson on the Colts and Broncos running back Knowshon Moreno. Phillip Rivers is only 48% drafted and is ranked the 5th best quarterback. Also, Phillip Rivers top receiver on the Chargers is Eddie Royal who is sure to bring in over 10 points per game, is only 65% owned. Make sure you look to see if these players are drafted, and if not jump on them ASAP.
Danny: Brian Hartline of the Miami Dolphins is a guy many people haven't heard of, (only owned in 43% of leagues) but he's averaging 11.3 points per game.  Miami is off to a hot 3-0 start and even if Hartline doesn't score a touchdown every week, he's sure to see his fair share of targets.
On the flip side, who are some guys that look good for fantasy on the surface but are actually bad investments?
George: A terrible investment right now is David Wilson. With his frequent fumbles in week two he had negative 0.40 points and in week three had 3.90 points and is 86.6% owned. Also, a player to hold on to but keep an eye on is C.J Spiller. Week three he had a shockingly low 1 point, however don't drop him yet because his week 4 projection is 19.50. Just be weary and keep looking weekly at his opponent and projections.
Danny: Stay away from Colin Kaepernick for the moment.  He was a trendy pick this year, but the 49ers are in a funk right now, and no one knows when they will pull out of it.  With no touchdowns in weeks two or three, Kaepernick isn't living up to expectations.  He had a slight bounce back last night with two touchdowns against the Rams, but he lost a fumble as well.  While he is by no means the worst fantasy QB you could have, the best place for him right now is your bench.
If you could have any player to headline your fantasy squad, who would you pick and why?
George: I would choose Peyton Manning because of his all-around great team, the Broncos, and Manning's phenomenal completion rates. He is the perfect player to lead his team to the super bowl and lead your fantasy team to victory.
Danny:  There really isn't a second choice here.  Peyton Manning is far and away the best fantasy player to own after the first Three weeks of the season.  He has 90 fantasy points, which is 16 more than the next player, Michael Vick.  With the array of targets the broncos have, Manning only looks to improve.
How are your fantasy teams performing currently, and what are some tips you have to new fantasy football owners?
George: I currently own two fantasy squads but recently joined fantasy football. Week thee was my first match-up for both of my teams and am 1-0 in both leagues. My key to success in these leagues is staying updated. The reason many teams struggle, is because the owner is not checking his players to see if they are active and to be aware of the bye weeks, so you do not waste a starting spot on a player who is not participating that week.
Danny: The best of my three teams is at 2-1 right now, and after Frank Gore rushed for 153 yards and a TD last night, I'm off to a 19-0 start in week four.  I usually try to build my team around its running backs because they are usually more dependable than wide receivers and are always great trade offers.  Going to the waivers is also a great way to try and grab talent that the rest of your league hasn't discovered yet.  Players get hot and players cool off throughout the season, so it's important to check every week to see who the top sleeper is.