Freshman Friday: Chester Beck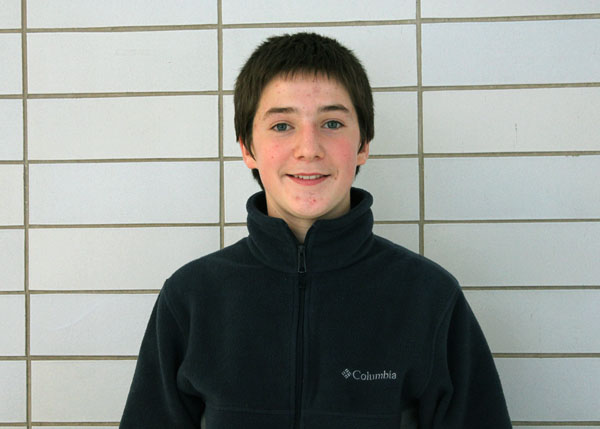 By Duaa Israr
January 17, 2014
"I think the point of life is to do and learn as much as you can. If an opportunity comes up, I'm gonna take it," freshman Chester Beck said.
Opportunity has been throwing itself at Beck ever since he was little in the form of music.
Music has been a part of Beck's life ever since he was seven. For five years, Beck played the piano, but what he really wanted to do was play the harp. It took a while, but his parents finally agreed and he began to play in the seventh grade.
"I was begging my parents pretty much my whole life to play the harp. My friend lent me his harp and now I play for orchestra," Beck said.
Beck is involved in choir with upperclassmen and spends his free time in a children's choir outside of school. He takes voice lessons and usually spends 10 hours a week practicing. Beck is also a member of Echo Effect along with his brother, junior Theo Beck.
While Beck's brother is one of the top cross country runners on the team, Beck doesn't feel as if he lives in his brother's shadow, that he needs to prove himself, or be more like Theo.
"My brother and I have a really good relationship. He's there when I need him and helps me study for tests. We're like best friends," Beck said.
Music is not the only thing that keeps Beck busy. Beck is involved in sports in and out of school. He coached a flag football team last year and was on the Niles West soccer team. He also plans on doing track and tennis.
"My dad is a P.E teacher at a Progressive Education School in Wilmette, so he really pushes me to do sports. He's also my inspiration when it comes to music. He plays a lot of 70's music and Stevie Wonder in the house. My family starts singing at random moments, so its pretty fun," Beck said.
Beck loves learning about history and enjoys baking in his free time. He plans on selling pies, cookies, and pastries next year. According to Beck, living a life without doing "stuff" is pointless. He's also quite social.
"Chester's an awesome person. He's super friendly and really fun to hang out with. He gets along with almost everyone and you know that you can rely on him," says Eliza Kirov, one of Beck's close friends.
Beck was one of the few lucky members of choir that were able to meet and perform with Paramore at the UIC pavilion. Beck said it was an amazing opportunity to be on the same stage as Haley Williams.
"I think I'm meant to be a performer. That's, like, my goal. To perform in front of people. I'm actually going to try out for a solo in choir, but I don't know if I'll get it. There's a lot of talented people," Beck said.