Olympic Hockey: The Best In The World Take The Ice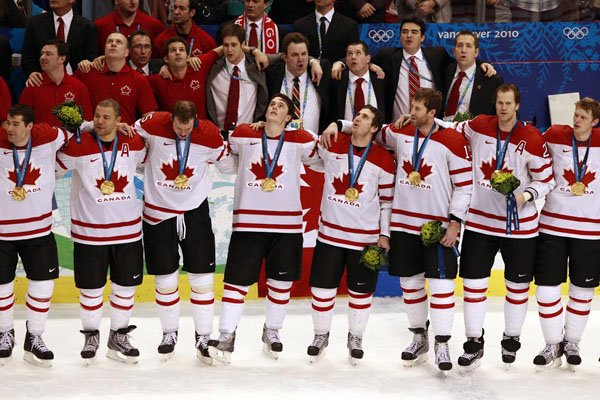 By Danny Thompson
February 4, 2014
The Winter Olympics are here once again, and for hockey fans like myself that means a chance to see the best hockey talent in the world showcase their skill while surrounded by new teams and coaches. Watching international play is fun because you get to root for players you wouldn't normally cheer for, and you get to be part of a fan base that represents an entire nation. While the IIHF holds international championships annually, nothing compares to the hype, coverage and participation that the Olympics bring. The winners of the Olympic gold medals for men's and women's hockey are put in a group of champions all their own.
One of my favorite parts about Olympic hockey is that players don't come from only the NHL. The KHL (Russia), Liiga (Finland), NLA (Switzerland), the SHL (Sweden), and the Czech Extraliga – among other European hockey leagues – send a large amount of talent to the games as well. For many players outside the NHL, this may be the only time in their careers that they play for an international audience, giving them that much more to play for. I will admit, though, that nations without any, or with only a few, NHL players are at a real disadvantage. A team like Slovenia, playing in their first Olympics with only one NHLer (Los Angeles Kings center Anze Kopitar), doesn't really stand a chance against the US, Canada, Russia, or Sweden, all of whom are stacked with NHL names. This is obviously no surprise, but it does allow for great underdog possibilities and, like I said earlier, you get to watch no-name guys give big-time effort on the world's largest stage.
This year the gold medal is Canada's to lose, but it's not going to be easy for them. The Canadians are all NHL players, and some of the best NHL players at that. Guys like Crosby, Toews, and Nash could take on some of these teams by themselves. A second team of Canadians would have a legitimate shot at gold as well. Simply put, on paper the Canadians are the best in the world at hockey. It makes sense, they did invent the sport after all, but just because they look good doesn't mean they'll take home gold for certain. There are 11 other teams who want gold just as bad (or worse) than they do.
Sweden is coming off a loss to Finland for gold at the last major international event, the IIHF World Junior Championship, so they'll be hungry. They have a couple of injuries to worry about, with the Red Wings' Johan Franzen almost definitely out with recurring concussion symptoms and the Canucks' Henrik Sedin recovering from multiple injuries. Both these guys are extremely valuable forces on the ice, and Tre Kronor ("Three Crowns" – the team's nickname) will miss them if they aren't ready to go. Even still, the Swedes are stacked and it would be an upset if they finish outside the top four. They have guys who play on the same NHL teams, a pair of twin brothers, and loads of veteran leadership. It's a cohesive unit.
It's home ice for the Russians, and no one is more proud of their team than the former Soviets. Their roster is almost equivalent numbers of KHL and NHL players, and I think that will serve them well. No one will be able to surprise them on an individual level. These guys see both KHL and NHL players on a regular basis, as opposed to a team like the US who don't see the guys from European leagues as regularly, and therefore may not be as prepared for other styles of play.
Speaking of the Americans, Uncle Sam's slap shot is looking decent. This team is very similar to the one that brought home silver in 2010, but overall I don't see it going as far. Patrick Kane is the single best scorer in the tournament in my opinion, and he's lethal in a shootout. So are all the Americans, but the level of talent across all lines is not quite up to that of the Canadians or even the Swedes, and the superhuman performance that Ryan Miller put on in Vancouver will be hard to repeat. USA definitely has the ability to win gold, but every player on every line has to play up to their full potential and play like they want it.
The Fins and Czechs will both be strong and in medal contention while the Swiss and Slovaks will potentially make some noise as well, playing many lesser known players and being dark horse candidates to potentially go on a run and sneak into the medal round. It'll take some luck, but crazier things have happened. Austria, Latvia, Norway, and Slovenia round out the bracket and are the true underdogs, but all carry the ability to spoil a bigger team's day.
From the first puck drop to the time the final horn sounds, I'll be glued to my TV watching it all unfold. All things considered, it's shaping up to be a great tournament in Sochi.