How to Become a Hawks Fan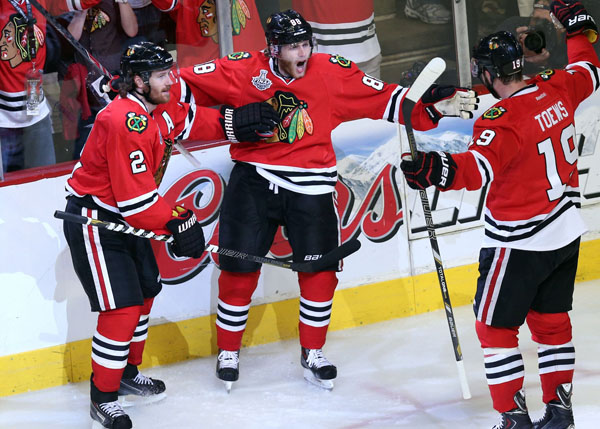 By Rand Jassar
February 20, 2014
I'm not what you call a sports fan. I don't wait for the weekend to sit on my couch and watch a game. I don't look forward to the super bowl. And, I don't own any jerseys. However, one sport that tamed me is hockey.
Believe it or not, the interest was sparked not too long ago when I saw a tweet made by actor Taylor Kinney that simply said "Holly Hockey" indicating that team USA is fairing well in the Sochi Winter Olympics. Curiosity got the best of me and I began searching for hockey videos. After hours and hours of hockey, I became fascinated by the sport and made it a goal of mine to become a Blackhawks fan.
Here are a few points I would recommend to follow to become a dedicated hockey fan:
1. Learn the names: Although it might seem easy to just look up the roster and try to memorize the guys' names- it's NOT. Just make sure you know the big ones like Jonathan Toews, Patrick Kane, Andrew Shaw and Patrick Sharp. If you know the rest then that's just power to you as a fan! If not, then you will definitely get to know them after watching a few games. Remember that Toews is pronounced Tayves and not Toes!
2. Watch the team's highlights: At times like these I'm really thankful for YouTube. You can simply look up the highlights. Some videos include the dates, too. This can be really helpful when you're trying to strike up a conversation with another Hawks fan.
3. Watch the games:  Hockey is a very interesting sport. It's like a mixture of soccer, skating and football (the fighting part).  Make time to see the most skilled hockey players in the world in action.
4. Follow the team: Whether on Facebook, Twitter or Instagram, make sure you follow the guys. This shows that you have an interest in the team and want to see what they're up to.
5. Buy some team apparel This is where you have to take your wallet out. It's very important that you have the gear. Whether it's a jersey of a specific player or just a t-shirt of the Hawks team, this will score you points for sure.
6. Have a favorite: After watching the videos of the games and some interviews, I have to say it's a tie between Captain Toews and forward Kane for me- though Toews gets more points for his good looks. Make sure you know the 101 on your favorite player: Important achievements, stats, etc.