Freshman Friday: Paige Garland
Imagine your parents got the career they dreamed of when they were small. As a little kid, you'd hear your dad playing one of his songs, and you'd watch your mom create a piece of artwork on a canvas. It'd be an atmosphere where you'd be able to grow up thinking you could achieve your dream. Freshman Paige Garland's life has been exactly like that.
Her parents, a musician and an artist, moved her from Evanston to Morton Grove in 7th grade. A couple years later and she's here, taking Advanced Studio Art and excelling at it. Her projects have been showcased at the art shows held West and she's moved up from taking Art Foundations to the more sophisticated third year class. Garland plans to take AP Studio Art her sophomore year and upperclassmen years as well.
"I never did any art classes but my mom, an artist, did teach me how to paint and draw and how to sew. She was a clothing designer at the time," Garland said.
Garland's mom and dad haven't been her only support system with pursuing her artistic talent. Her Parkview art teacher contacted art teachers at Niles West Deanna Sortino and John Zilewicz to make sure Garland got into a good class at West. Even in middle school, Garland showed promise in her artwork.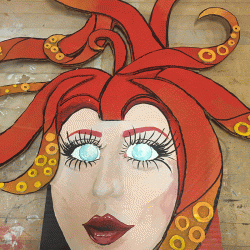 Drawing is Garland's favorite thing to do and Photo Realism has been one her favorite styles. Photo Realism is just like what it sounds; drawing very realistically as the goal would be to make it look like a photograph instead of a drawing. Coming here, she's grown a lot. Zilewicz's art assignments are generally mixed media—paint, charcoal drawing, watercolor, etc.—so Garland has widened her skills a lot.
"I haven't really done a lot of big art projects before, but now, being here, there's a lot of freedom to do something big and different," Garland said.
Her mature style is what got her bumped up so high in classes. The way Garland thinks artistically, gave her a couple steps up as well.
"She's probably one of the most up and coming artists we have right now. She's operating as a junior or senior would be. Paige has a lot of promise and hopefully she can be a department leader in the future," Zilewicz said.
Garland's classmates were even surprised when they learned Paige was a freshman. The friendly 7th period class all thought she was a junior because her artwork was so mature.
"Paige is one of the most talented people I've met. She's only a freshman and she's already in advanced studio art, she slays us all, " junior and classmate Julianna Gil said.