The Problem with Snow Days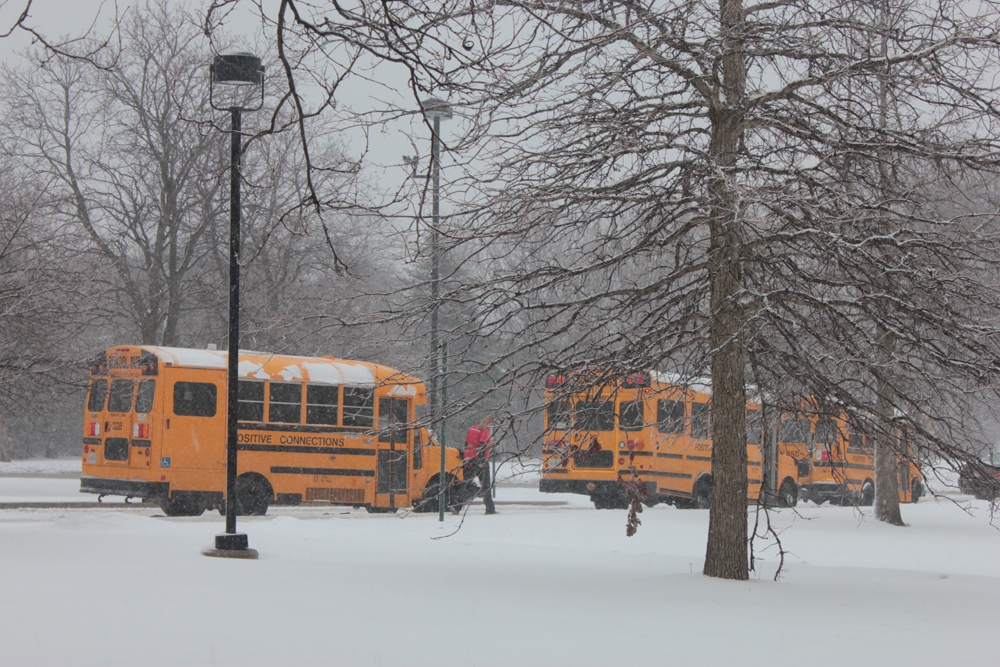 By Katrina Nickell
February 25, 2015

Living in the Midwest, bracing brutal winters year after year, you would think that schools would have ideal schedules and planning for snow days. Unfortunately, District 219 is not one of those schools.
When it comes to the crazy weather, though, snow days could end up affecting some families' schedules at the end of the year. The most recent incident of the district poorly handling a make-up snow day happened when we anticipated having Presidents' Day off. But boy, were those dreams crushed in one short week's notice.
The district decided that it would be best if students made up the day as soon as possible, instead of messing up end-of-the-year events (i.e. prom. graduation, finals). This makes perfect sense to me. You don't want to mess with families' plans or the district's set-in-stone plans either. But, one week's notice of students having to be in attendance on a day we all thought we had off, wasn't the brightest idea. Countless students, teachers, and staff were missing, plans were messed up, and we didn't get to sleep in on Monday.
Many juniors had planned college visits for Presidents' Day weekend, and they were not happy they were going to miss a day of school.
Junior Dan Weiss was one of these students whose plans were affected.  He was visiting Washington University in St. Louis over Presidents' Day weekend and ended up missing a day of school.
"They only gave about a week's notice, and I couldn't exactly change my plans. I heard it was basically a waste of a day, too.," he said.
According to ISBE, schools must have 176 days of student attendance. According to the teachers' contract, district 219 students need 177 attendance days (and the teachers need 180 attendance days, 177 days plus three institute days.)
The language of the contract reads, "The school year for all teachers shall consist of 177 student attendance days, and three institute days … Although the school calendar must provide 185 days, sufficient holidays shall be given or the closing day of school adjusted to insure that the limit of 177 teaching days, including days of examinations, shall not be exceeded."
Because of the teachers' contract, we had to be in attendance and make up the day, according to d219 community relations director Jim Szczepaniak.
"School was in session on Feb. 16 (originally planned as a non-attendance day for Presidents' Day) to make up for the Feb. 2 closure of school due to the cold weather. We 'took that day back' so we can reach the required number of student attendance days," he said.
Teachers' union vice-president Steve Grossman said that being over the state minimum is an expectation for schools around our area.
"I think it's pretty typical for schools to be open more than the minimum days of student attendance based on mutual agreement between the board and the union. I personally think it was appropriate to make up the day. I regret there was such short notice though," he said.
Despite these contractual and legal obligations, the district 219 school board should still reconsider how snow days are handled. It should come as no surprised that attendance was lower than normal on Monday, Feb. 16.
"We had about roughly 80% attendance. Generally on a normal day we are probably about 95%," dean of attendance David Hawk said.
Trigonometry and Pre-Calculus teacher Colleen Gogerty, who teaches seniors and juniors, said she expected that attendance would be light on that Monday.
"However, a majority of my students were here. One of my classes did only have seven students; mainly the seniors were not here. For the most part my juniors were," she said.
Nearby districts such as Glenbrook Township District 225 and Maine Township District 207 have what is known as "built-in snow days." These days are added to the end of the school year in anticipation of potential snow or cold days. For example, including built-in snow days, school could end June 1st, but if no snow days are used, that school year would end earlier than that date, depending on how many extra days are built in.
According to Szczepaniak, the district is now considering adding built-in snow days in future schedules to allow adequate planning around the weather.
"We are considering designating specific 'just in case' snow days, so our families would know in advance which days would become attendance days if we need to make days up," he said.
Let's face it. We live in the suburbs of Chicago. We expect winters with subzero temperatures and two feet of snow in one night. It is no surprise we will have at least one snow day a year. In all my years of schooling, I believe my 8th grade year was the only time I did not have a snow day. Built-in snow days would probably be the best plan for our district.