On the Flip Side: Captain Ahab and the Great White Prom Dress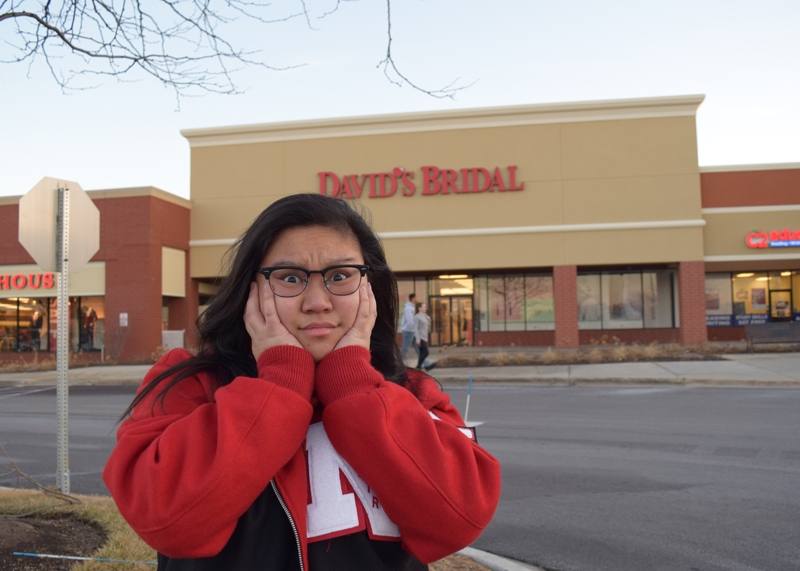 By Thea Gonzales
February 25, 2016
I thought I was going to have to change my name to Captain Ahab. Deadly were the waters in which my journey began: a David's Bridal that overflowed with panicked teenagers and their over-invested moms. To my right, someone reached for another's prospective dress and a silent war was waged, only interrupted by the introduction of another sparkly distraction. Families and figures were pulled apart at the mirror; barely-legal children drowned in the sea of chiffon and sequins. After trying five different dresses, I had yet to find my Moby-Dick.
"Ahhh OH MY GOD," a David's Bridal employee said, running between two separate parties that both wanted the same changing room.
This wasn't pre-prom season shopping. This was a hunt. Under the guise of scattered chatter and absentminded browsing, the atmosphere was unforgiving and focused. Everyone wanted to find her Dress before all the good ones were gone. And it was only February.
Though prom is a good three months away, there is already a group page on Facebook where senior girls from the class of 2016 have been posting pictures of them in their prom dresses. The purpose of this? To make sure that other girls know which dresses are taken and which are still up for grabs; though a helpful and supportive community, this page also puts unintentional– but present– pressure on girls to find and purchase their dresses now.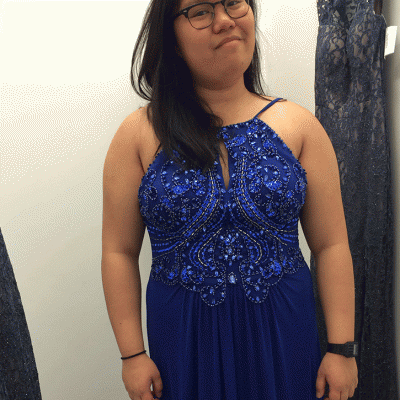 "The most important thing for me is to feel comfortable in a dress and that no one else has that dress because the whole part of that night is feeling special, and when you have the same dress as someone, it takes away from that special quality. I definitely felt pressure because I didn't think anyone would be shopping for prom dresses this early– it's only February and prom is in May. But now everyone is shopping," senior Kristin Recinto said.
As a veteran of the prom craze, senior Kaylie Dyer made the group in January in order to avoid issues like last-minute dress shopping.
"I really wanted to get my dress early this year because I feel like it's a huge thing to be stressing over last minute! Knowing that I'm settled and have my dress makes me more and more excited for prom. I think the best time to start seriously looking and going to try on dressings is probably February. All the new prom collections come out and it's before all the stores get super hectic, so being a prom veteran, I definitely want to stress one thing: do not wait till last minute!" Dyer said.
I understand the purpose of the group and appreciate its assistance– especially in providing coupons and encouragement that does boost a girl's ego– but is now really the best time to be stalking the racks at department stores and boutiques? Three months before the day even comes?
In a decision made by (a) the desire to go home and (b) a miracle sent from the heavenly bodies, I chose Afina: a pretty blue number with a top half that reminded me of armored butterflies and a bottom half that was normal enough to balance out the simile I had used about the top. Finally, on that arguably premature February afternoon, I could proudly announce to the group page that I was a woman. More interestingly, I was a woman with a dress.
At $229, my dress was a smidge above the average price. I certainly didn't think it was cheap; it was one of the two worthy purchases that I made with my leftover money from working at Meatheads. I felt like a cool cat in my bold blueness, but some girls wanted to spend much more on their dresses. As a class, 2016 has shown its tendency to favor dresses of higher regard like Sherri Hill, with dresses ranging from $300-500 on average.
Of course, there's nothing wrong with splurging if you have the means to spend that much. If you look good, you should take pride in it and flaunt it on prom night. But why must a dress be bought brand new in order to be chic and special? Why is there such a stigma against renting or even buying used prom dresses? When people of older generations shake their fists at us in resentment from their porches as we drive by them with our color TV and our hashtags, one of the reasons why might be our rampant consumerism and desire for the newest and best styles.
At the end of the month (or, well, three months), it's prom. Whether you decide to live in the teenage dream and spend $600 for a glammed up night with people you care about or instead go to the Evanston rocks and throw stones at the water in a fit of teenage rebellion, prom is one of the last hurrahs that the class of 2016 has left. It is a celebration of all our teen spirit.
Maybe it's dumb to use your time and resources trying to show everyone else that you're special. But maybe that night you'll really get to feel it, with every stitch on your shimmery, couture dress. And then maybe it will be worth the planning and the dressing rooms and the booking of salons in advance. From Captain Ahab and a woman with a dress, I hope you find that special feeling and hold onto it with whichever hands you aren't using to dance. Hurrah and happy dress hunting!
Let Captain Ahab know in the comments:
(1) How glamorous can a "Night in Paris" be in used or rented clothing?
(2) What is the best time to shop for a prom dress? 
(3) How do you feel about the stress to find the "perfect dress?"